A New Take on Forgotten Methods
The great salmonfly hatch of the American West needs no introduction. On an average year, one can chase these alien-looking creatures from May through July on various rivers. Well documented since the early days of western fly fishing, the salmonfly hatch is no grand secret. However, to witness the modern-day traffic jam of drift boats launching on (insert famous river here) can be an eye-opening and depressing experience. At times it seems like a miracle that any fish are caught at all given the regatta that constantly passes overhead. However, the trout are hungry after a long winter and eager to take advantage of one of the best protein sources of the year.
This drive to feed is what causes the fish to disregard the otherwise cautious behaviors that become so prevalent later in the season.
Anglers from around the world descend upon the water sporting the latest in fly fishing fashion, an arsenal of foam bugs and thumbs ready to document every move on social media. While the traffic, apparel and tactics have changed over the years, the excitement around the hatch has not. For the angler, the salmonfly hatch often marks the beginning of the summer season, and the best opportunity to catch a large trout on a big dry fly.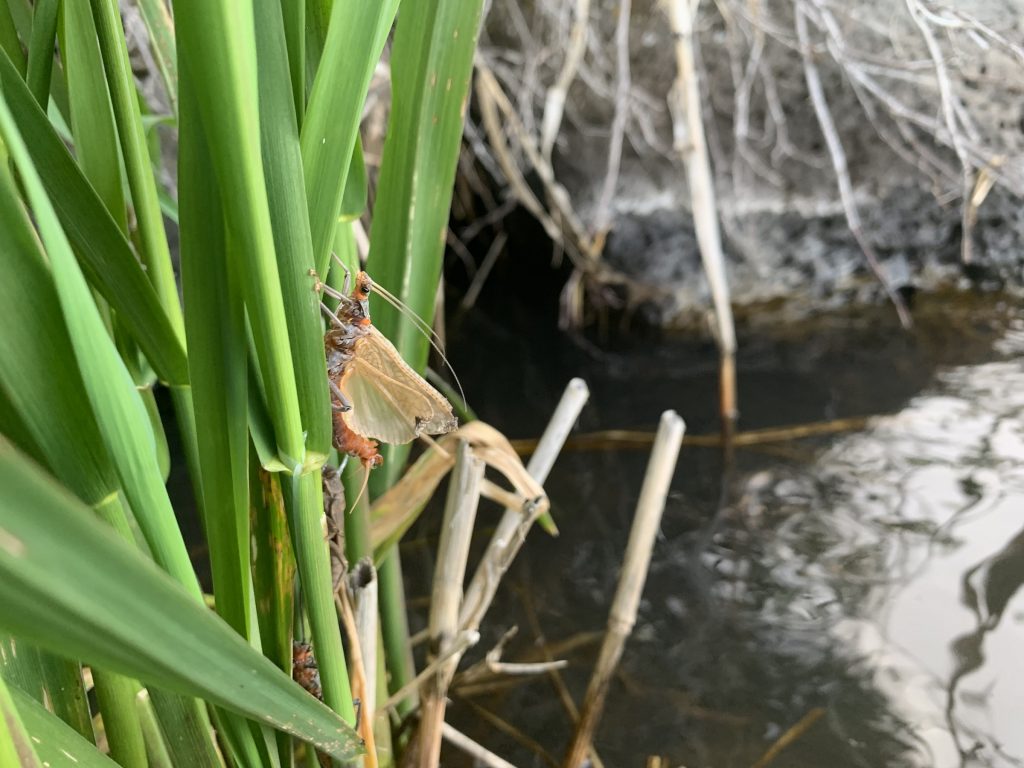 Yet, a forgotten style awaits the curious angler. While trout spey is bringing a new interest to the swung fly, most modern anglers are unfamiliar in using wet flies to match-the-hatch. However, a look back at the most popular stonefly patterns from the 1930s-50s would indicate that the style in vogue was to fish the giant stonefly wet, and for good reason. Walk the bank of the river as the hatch moves through, and you will notice massive amounts of drowned adults, shucks and floating nymphs along the bank. Modern techniques focus on nymphing under an indicator or fishing a buoyant foam bug often paired with a beadhead dropper. I think most anglers feel that with these two styles they are effectively covering the hatch, but this is not always the case.
Before I go on and sound like I never fish this hatch with a nymph or foam dry: my drift boat is often in the bumper boat line up previously described, and I too have rods strung up with foam imitations and beadhead droppers. I enjoy watching my friends and family experience the thrill of a large trout smashing a giant dry fly from the rower's seat.
But, personally, I'm happy to wait for my chance to get out of the boat and wade an empty run or riffle. For me, one grab on a skated stonefly over good water is worth twenty under a bobber. Your mileage may vary.
As angling pressure increases during the hatch, the fish will get beaten back into the furthest recess of the bank or deep into the heavy water. The probability of getting a large trout to move to a high floating imitation in these conditions decreases. A well-placed sunken stone pattern dead drifted or fished on a slow swing can be effective when the fish have seen thousands of foam bugs. Likewise, a slow waking muddler in the evening light can produce violent surface takes as the fish move back to their prime lies and start to look for the day's leftovers or evening caddis.
I prefer a greased line presentation when fishing the stonefly hatch. I find a key to hooking fish is to provide a slow enough target in the often swift flows of early summer. Keeping the cast to short – 30-50 feet – helps in getting a proper presentation and better hookups, this distance can easily be achieved with a single-hand rod, but a two hander helps with consistency and line control. With a sunken or damp pattern, I will perform several upstream mends throughout the presentation to slow the fly. Alternatively, if skating a dry I will cast at an extreme downstream angle to focus on the nearest 20 feet to the bank. Adult salmonflies that have been blown back into the water often make a fast dash towards the safety of the bank and they are notoriously clumsy swimmers. It's a tailor-made situation for a skated fly. Keep in mind less pressured fish will be more likely to respond favorably. Consider revisiting a favorite stretch of water a week or two after the hatch has moved through.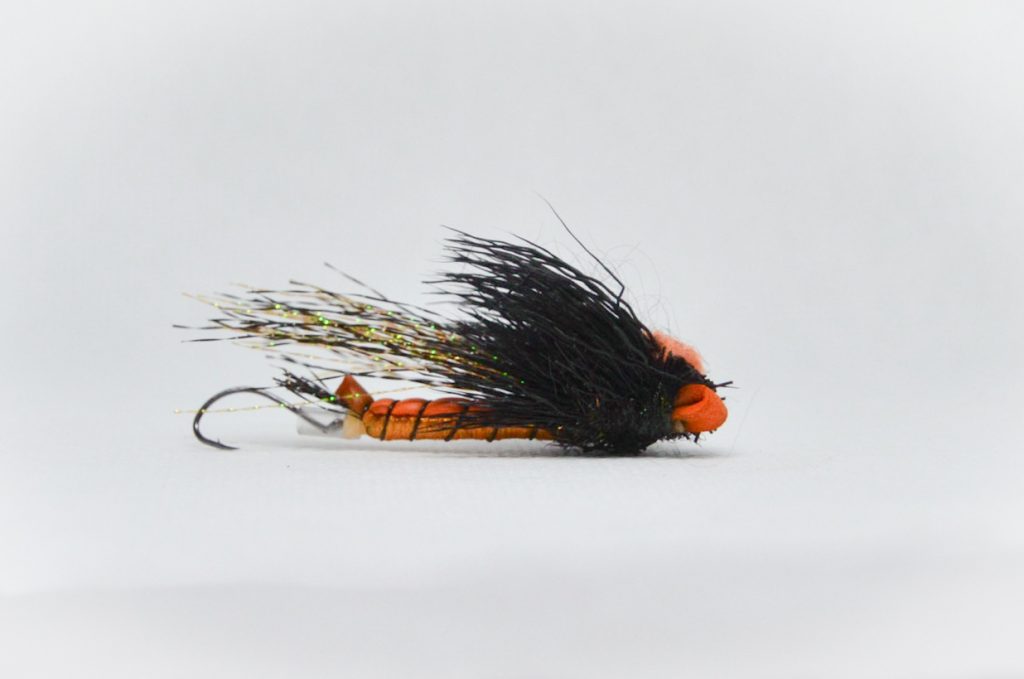 When I first started fishing stoneflies with a trout spey, I tied up some very large tube skaters, which resulted in a few exciting takes and boils. However, I found that downsizing a bit was the key to getting solid hookups. Trout can be apprehensive of such a large offering and might swat at the fly without taking it. A waking fly has a large presence in the water, and I will often use a #6 pattern even though the naturals can be much larger. As the hatch wears on, downsizing is appropriate. A handful of patterns is all that is needed.
If you prefer to fish on the surface, Greaseliners and Fall Caddis are solid choices. One of my favorites is a pattern out of West Yellowstone, Nick's Sunken Stone. A greased up and dead drifted Thompson River Caddis can also be terrific towards the end of the hatch, especially if the fish are shy from days of nonstop angling pressure. If it has been a windy afternoon, a muddler tied with a burnt orange body and moose hair head is also favorite as the sun gets low.
For fishing below the surface, a Brooks Stonefly Nymph is a great pattern fished deep and slow during the nymphal migration. Once the hatch is underway, I love Grant's Featherback Nymph. The Bar X is another pattern lost in time that serves as a great drowned adult imitation. Sinking and intermediate polyleaders can help dial in the preferred depth for these patterns. Again, a Thompson River Caddis fished damp is a fantastic suggestion of a submerged adult and might be exactly what a fish is looking for.
Day in and day out, pounding the banks with a large nymph under a bobber, or a chubby and dropper will result in the most fish. If you have the opportunity to fish a dry fly to an actively feeding trout that has keyed in on natural adults, do not pass that up. However, for covering large amounts of water, which is often the key during the salmonfly hatch, the older wet fly methods are effective and can be much more fun than blindly casting an indicator or dry-dropper rig.
Experience and style mean much more to me than numbers and results. The tactile and visceral experiences provided by a swung fly at this point in my fishing journey provide the greatest pleasure. For example, the memory of a Henry's Fork rainbow cartwheeling multiple times over a waking muddler in the glow of a May sunset still has me grinning years later. And I can almost feel the warmth of the June sun as I recall working a flooded willow bank. The plump brown trout that I eventually landed nearly pulled my 3-wt. trout spey out of my hand on the grab.
In a world where steelhead and both oceans of salmon are struggling, fishing the great rivers of the West in this manner is a fantastic way to experience what once was. Unfortunately, the rivers and trout of the West are not lacking their own issues. As the numbers of anglers explodes and the "tactical" crowd comes armed with epoxy, articulations and jigs, it's difficult to find a fish that hasn't been maimed from multiple hook scars. As such, I actively look for ways to minimize my impact on fish while increasing my personal experience and swinging the salmonfly hatch is a fantastic way to do just that.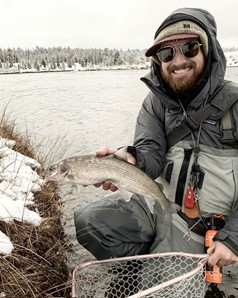 Growing up in the Greater Yellowstone area, Dan Gates was lucky enough to fall in love with fly fishing and tying at an early age. With supportive parents and great mentors, he experienced fantastic fishing throughout his formative years. Those years have shaped his philosophy on angling and he's a student of the past. Dan owns a small tackle company, The Grey Drake. Learn more at www.thegreydrake.com