An Art Project Becomes a Movement
By Joseph Rossano
Eighteen months ago, Topher Browne introduced Swing the Fly readership to School, a multi-year art project led by Joseph Rossano. School unites concerned individuals working in visual arts, environmental and scientific disciplines to promote awareness and conservation of declining salmon and steelhead populations worldwide.
The Skagit River — and its revered steelhead and salmon runs — serves as a paradigm for the project, contextualizing the finite size and shape of a once-seemingly endless and treasured resource. The silvered glass forms of 2,503 fish are being crafted in studios around the world. Made by activating a global community, these silvered fish displayed as a school hover in a space the size of a basketball court. School offers a tangible image of reality, the number of fish representing one more than was recorded in 2009, the year of lowest return to the Skagit River. At one time, the Skagit and its tributaries hosted steelhead runs approaching 60,000 fish, and king salmon runs in the hundreds of thousands. But despite an uptick in fish populations, reaching as high as 9,084 in 2014, today's king salmon and steelhead populations hover in the 3,000-fish range.
As similar trends play out along the West Coast, it is now more critical than ever to bring attention to the issue of declining salmon and steelhead populations. The Skagit River is School's start and end, symbolically representing what is happening to all the world's salmon. The struggles confronting salmon and steelhead in the Skagit drainage are not unique; they are often the result of ambivalence for salmon, wherever they swim. The School exhibition, the physical manifestation of the project, was originally intended to be displayed in multiple locations worldwide. However, since its first showing at the Bellevue Art Museum (WA) from April through August of 2019, the world has been beset with a pandemic, at a scale unseen in more than a century. This pandemic has put the brakes on support for much that is non-essential. Unfortunately for many, art and environmental awareness have fallen from the light at a time when active interaction with each can improve both our mental and physical health.
COVID-19 has sent global society into a continuing tailspin. The pandemic has had far-ranging effects on the livelihoods of many, and for all who have suffered in these challenging times, we send our heartfelt condolences. Yet for a project like School – a project dependent upon visiting different nations to showcase their salmon and how we will recover them – COVID-19 has also given us a glimpse of how quickly rewilding can occur. The pandemic has halted normal human activities, bringing diminished hydrocarbon emissions to Earth's wildlands. These challenging times have awakened a desire to protect the natural world from wherever we are, for individuals across the globe to focus on the Schools in their local streams.
The visual experience that School offers both in-person and online is additionally supplemented with its engagement in citizen science. The Glacier Peak Institute, supported by the Smithsonian Institution, Washington Department of Fish and Wildlife (WDFW) and the North Sound Chapter of Trout Unlimited, will engage in an environmental DNA (eDNA) project that hopes to offer insight into the populations of salmon and steelhead fry. Local youths will collect eDNA samples, which WDFW will use to correlate the shedding rates of eDNA with water volumes, democratizing salmon and steelhead understanding, resulting in new tools for predicting and enhancing fish returns.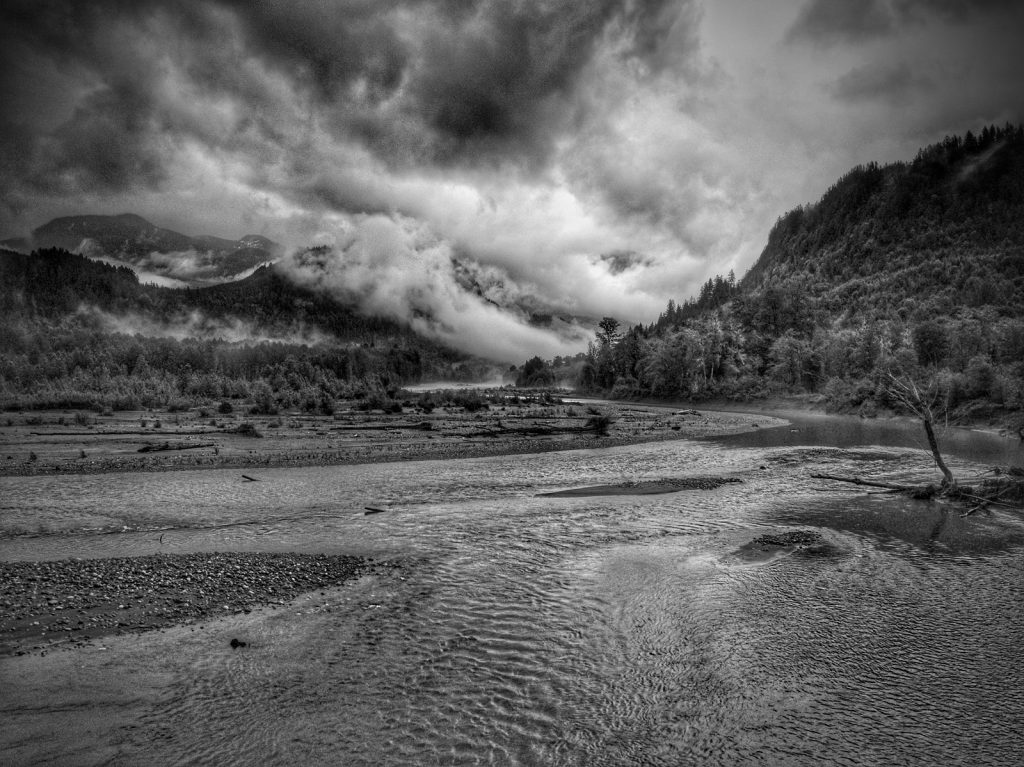 Unfortunately, just as Skagit steelhead and salmon populations have declined, so too has support for the public schools at its headwaters, leaving fish, youth, and communities in remote riverine habitats at high risk. Involving students in art and science that generates solutions to revive the fish populations is a worthwhile investment for all.
Like the wild steelhead and salmon its forms mimic, School will return for exhibition to the place of its spawning, Museum of Glass in Tacoma, WA, before the close of 2022. In a world closed to travel during the months leading up to School's exhibit, the installation will grow in quarantine. Organized in partnership with the glass studio at STARworks, up to 16 glass studios worldwide will gather for at least one live-streaming event to make these symbolic glass fish. Following time zones, the event will begin rolling in Norway; then proceed into Western Europe, England, and Ireland; then on to North America, first the East then West Coast; and the event will finally conclude in Australia and Japan.
So, how can you help? Since its first appearance in these pages eighteen months ago, School has transformed from a series of exhibitions into a slow environmental movement that merges art, science, community, and activism. Please paste the School website into your browser favorites (www.thesalmonschool.com), check it monthly for updates and spread the word. Or perhaps consider making a tax-deductible donation in School's name to the Nisiterre Foundation or one of our other partners through the School website. School has found support from organizations like STARworks (NC), Atlantic Salmon Trust, Sherwin-Williams, Schack Arts Center (Everett, WA), Hilltop Artists (Tacoma, WA), Bellevue Arts Museum (WA), Blåst Studio (Norway), Devereux & Huskie Glassworks (UK), Museum of Glass (Tacoma, WA), Canberra University (AU), Osaka University (JP), North Fork Studios, August Island Pictures, and more with each passing month.
Through worldwide collaboration, art-making, citizen science, and live performances, we will alter global awareness, demonstrating the power of a concerned community to motivate real change. On behalf of the world's salmon and steelhead, and the communities that rely on them, thank you. Please consider joining and supporting the School project.
This article also appears in the 2020.4 issue of Swing the Fly magazine. Please visit www.thesalmonschool.com for more information and to stay up to date on School.