By Conrad Gowell, Native Fish Society
About the time the first thimbleberries turn their bright, lipstick red is when to head into the coastal range of Oregon in search of cool water. In the shade of sitka spruce, western hemlock, fir, and cedar, the mosses cover the riverside cobble that is interspersed with Columbine blooms, tall sedges and stonefly exoskeletons. Vultures soar above, riding the thermals of the winds coming in off the North Pacific, and kingfishers are poised on their perches searching for food.
Sitting there, bearing witness to the handful of spring chinook salmon lying calmly in the pool, I couldn't think of how I could possibly break the news to the public that these fish are threatened. In the past, announcements of extinction and extirpation have been forms of violence that the environmental community has imparted on the psyche. Chronicles of devastation come first, followed by a set of legal requirements that attempt to force massive societal change in order to avert ecological collapse. It always starts with "SAVE THE . . . (fill in the blank) . . . !!!" and ends with the same disheartening, divisive politics.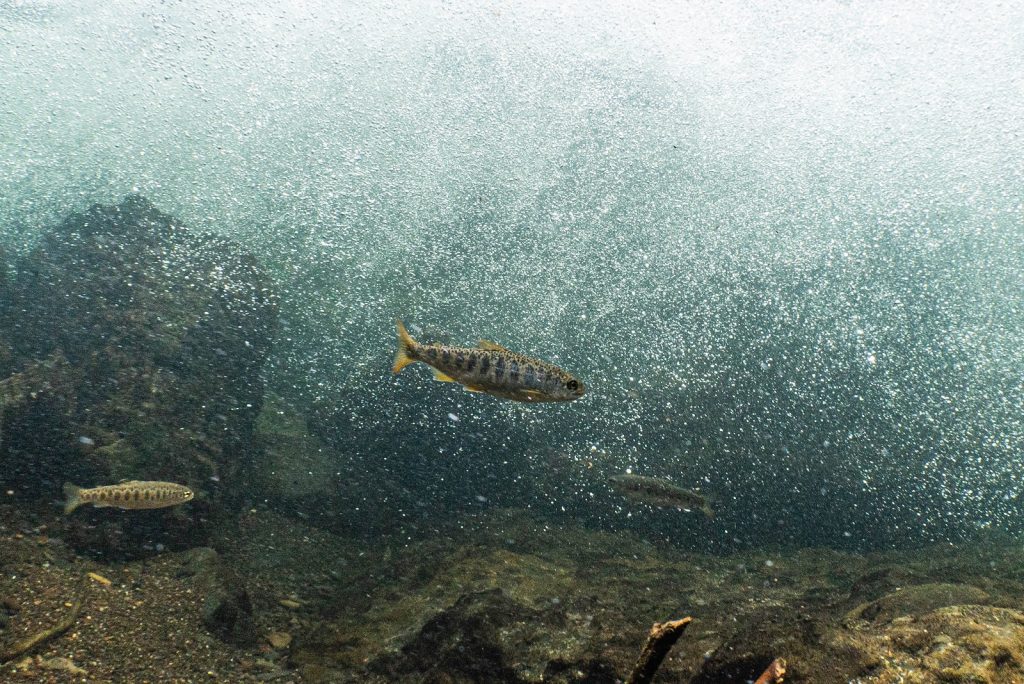 In the past century-and-a-half, there have been so many forms of harm. Gillnets have been strung across rivers like a wall, blocking all migration to home gravels. Dynamite has been flung into refuge pools like a weapon of mass destruction. Forests have been stripped of their wealth, ore has been extracted from the earth, embryos and offspring have been taken.
Truth is, these fish are tough, resilient and magnificent beings that do not need saving. Instead, they need respect. They are here, asking for acknowledgment and the basic conditions that allow them to live their lives. I'm certain there is no one action that will be able to give that, but, if the status quo continues, our relationship with spring chinook won't continue.
In 1900, wild spring chinook inhabited almost every Oregon Coast river with a major estuary. Over the next century, those fish would become a poignant example of the shifting baseline. In 1991, the Coastal Chinook Management Plans acknowledged eleven populations in what would later be classified as the Oregon Coast Evolutionarily Significant Unit. A 1998 document from the Native Fish Status Report reduced that number to nine. In 2014, Oregon Department of Fish and Wildlife released its Coastal Multi-Species Conservation and Management Plan, which cut the number of Oregon Coast ESU populations to just two. From the Necanicum River south to the Coquille, the disappearance is becoming normalized and accepted. The fish are being erased from human consciousness.
Spring chinook in the Oregon Coast ESU were previously petitioned for listing by the Oregon Natural Resources Council in 1994. In their review of the petition, the National Marine Fisheries Service (NMFS) acknowledged the unique life history, habitat needs and longstanding decline of spring chinook, but ultimately decided that a listing was "not warranted." The decision resulted from an interpretation of genetic data by the agency that led to an aggregation of spring and fall chinook populations. It was assumed that, because the two species had a polyphyletic evolutionary history, they did not need to be managed separately. Essentially, the federal government was betting that co-occurring spring and fall chinook populations were genetically similar enough that, if spring chinook were extirpated, future runs could be re-established from fall chinook populations. That theory continues to be tested. In 2018, only a couple dozen fish returned to the South Umpqua River, one of the remaining populations acknowledged in the current management plan. They haven't come back in the places they've been extirpated from, and the ancient divergence between early and late maturing chinook is looking more and more like it only happened once.
The best available science is beginning to catch up with the cultural wisdom of tribes, which, since time immemorial, have acknowledged and respected these populations as distinct and managed them accordingly. Researchers from the University of California Davis found mounting evidence that, if these fish are lost, they won't be re-established from their fall chinook cousins. In a study of their own, geneticists at the Southwest Fisheries Science Center of the National Marine Fisheries Service are arriving at that same alarming conclusion.

In light of this new evidence, the Native Fish Society, along with the Center for Biological Diversity and Umpqua Watersheds, has asked NMFS to reconsider its "Not Warranted" decision in order to adequately protect the Oregon Coast's last remaining spring chinook populations. We have faith that a recovery planning process would not only show our respect and clarify our responsibilities but revive abundant spring chinook throughout the Oregon Coast as well.
Join us in advocating for Oregon Coast spring chinook and sign the NFS Action Alert found at https://nativefishsociety.org/get-involved