A while back I purchased a Meiser 12′ 6″ 3-5 wt Trout Spey.
Most are well aware of the gorgeous craftsmanship typical of RB Meiser Rods and this one is no exception. I love a beautiful fly rod, but must admit that performance is more important in my book.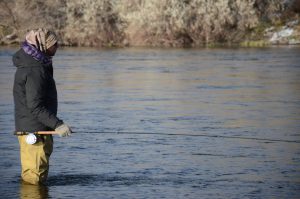 Well, this rod far exceeded my expectations.
My wiggle test at home showed a full flexing rod with a lot of feel, it felt like a nice light trout rod. Being that I like to muscle around a cast or two and am used to 16′ 10 wts on my home river (Idaho's Clearwater), I had honest concerns about its ability to power a firm cast. Well, I was wrong. The rod cast superbly with both a Skagit (300 gr Scientific Anglers Spey Lite) and Scandi (270 grain Airflo Rage). The rod flexed easy and recovered quick and crisp. A true joy to cast.
Fighting fish was a blast too, the rod bending to the cork on the Missouri Rivers 15-18″ trout. I do not think it will be too much on trout down to 12″ or too little on fish up to 4-5lbs.
Swing the Fly would like to personally say a very special thank you to Bob Meiser. RB Meiser Rods has been one of the biggest supporters of Swing the Fly from the very start, without their help, this magazine may never have gotten off the ground. Please consider giving them your support with your next rod purchase, I don't think you'll be disappointed.
Zack Williams
Editor
Update: This review was originally written in 2018. Over the past several seasons, this rod has become the only rod I grab for Trout Speying the rivers of Montana. It also was more than capable on the smaller than average steelhead of the Grande Rondel; me not being able to leave the rod at home.