You've had a long list of contributions to steelheading and two-hand casting. Is there one you're particularly proud of?
I am not sure I would consider my list of contributions to be all that long. But I am proud of my contributions in teaching anglers how to cast a two-handed rod and to tie steelhead flies. It was not a goal, it just happened. Teaching fly tying started with a desire to capture flies on film. I wanted to master the macro world of photography. I started with a Canon AE1 and a 60 mm macro lens. I struggled and never produced a useable photograph. It was extremely frustrating because writing a book was the goal. The main issue was, I could not afford enough film to get good. The digital era changed everything for me. I upgraded my camera, made a light box and went to work. The instant feedback of the digital camera was key in the learning curve. I will never forget my wife's first comment about one of my photos. She said, "You'd better start tying better flies if the camera is going to show all your mistakes." It was a natural transition from taking photos of finished flies to taking step-by-step photos. I first started publishing step-by-steps on Spey Pages and the rest is history.
Casting the fly has always been central in my fly fishing experience. I started instructing fly casting back in the mid-eighties. The transition to the two-handed rod started with a desire to engage in competition fly casting. I built my first two-handed rod using a J.K. Fisher blank in the late eighties. I quickly lost interest in competitive casting and the rod lay dormant for many years. John Hazel gets the credit for pushing me into the use of a two-handed rod for steelhead. Using the long rod on the Deschutes made it possible to cast in all the hard places. The learning curve for casting a long rod took a little longer. Skagit and Scandi lines were still in the testing stage. I got caught up in the line splicing phase but was very delighted when the Wind Cutter hit the market. Teaching two-handed casting was added to my list of instructional clinics I offered at our family's fly shop. For me, teaching someone how to cast a fly with a single or two-handed rod is still one of the greatest rewards in fly fishing.
You and Dec Hogan compiled a book, Steelhead Flies: Art and Design. What inspired you to write this book and what are some of your memories of the experience?
Writing a book was a personal goal of mine. I had compiled numerous photos and step-by-steps long before connecting with Dec. Co-authoring with Dec, however, was a no-brainer. Having a steelheading guru as a brother-in-law has its benefits. I am a self-taught fly tyer and photographer and can now say a self-taught writer and publisher. One of the most rewarding experiences was being forced to self-publish the book, Tying Steelhead Flies: Art and Design. It took ten years to compile all the step-by-steps and stories and toward the completion of the book we had publisher issues, which prolonged its release. To get the book printed we were forced to go the self-published route. During the process of putting the book together, I had to learn how to operate a layout program on the computer. It was all new to me. Countless hours were spent putting my minimal computer skills to work. Taking everything we had compiled and putting it in a book format was very rewarding. Once the book was ready for printing, I took out a loan, paid for the printing and the rest is history. Selling the book was fun, but the pure joy is to correspond with fly tyers who are using the book to improve their skills. Teaching was always the motivation behind the book.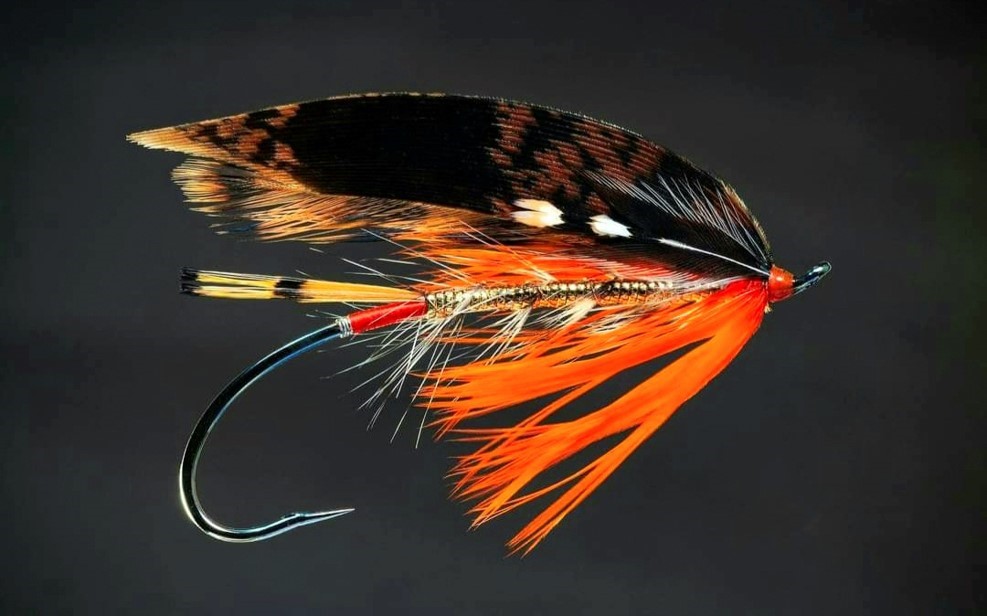 Are you planning on putting together more books in the future?
Yes. I am working on a book titled Trout Flies, A Lesson in Design as we speak. The book is 90% complete, just adding the finishing touches. It will be self-published, the same as the steelhead book. Dec and I have talked about putting a pattern style book together, we are still in the 'we should' stage. I am also working on a book with a well-known PNW Guide, Brian Silvey. It will be a fly tying book as well. It will encompass everything, not just steelhead flies. Our goal is to have it completed before we get too old to finish it.
Do you have a single favorite fly to swing? How about a favorite fly you have designed yourself?
I have many favorite flies. If I had to choose just one, I would hang up my fly rod and call it good. There is a story in the steelhead book where I talk about Brian Silvey telling me he changes it up at the vise every year, that tying the same fly over and over is boring. From that day forward, l have rarely tied the same fly repeatedly. I have about a dozen or more flies I will always have in my box, just because of the confidence factor. But even my old standbys get a tweak every now and then. Now if you were to ask what style I favor, it would be a full feather wing or maybe a strip wing or even a married wing. It would be hard to decide.
You told a group over the fire at steelhead camp, but, I'll ask again. 'Does the fly matter?"
I hear it all the time, "the fly does not matter".
Nothing could be further from the truth. Of course, the fly matters. For me, the fly must match the conditions. There is a reason for all the different styles of flies, from low water ties to XL Intruders. It is true, you could fish a size four Green Butt Skunk for winter steelhead and you might even catch one. But it is not optimum. I may change my fly three times on a warm summer day. A dark fly in the morning, then I might change to a bright fly midday, then back to a dark fly in the evening. The position of the sun, clarity of the water, and water temperature all play a role in fly selection. There are times when I will fish the same fly all day long. Confidence in the fly you are fishing is very important. I just got home from an amazing trip to Smithers, British Columbia. You can tell what kind of trip I had by the number of flies stuck in my hat's brim. This trip's brim full of flies included one that had produced three fish. The fly was tied on an Alec Jackson hook, using fur, feathers, and floss. The tinsel and floss on the rear half of the fly had been destroyed by the battles. I reluctantly retired the fly, knowing there was not an identical replacement in my box. It was hard to decide what fly to put on, I had confidence in all of them. The next fish came to a fly in a completely different color combination. You fish better when you have confidence in the fly. The last thing you need while swinging flies for steelhead is any type of distraction. Worrying about if the fly will work just complicates the process. Stay focused on fishing, not the fly.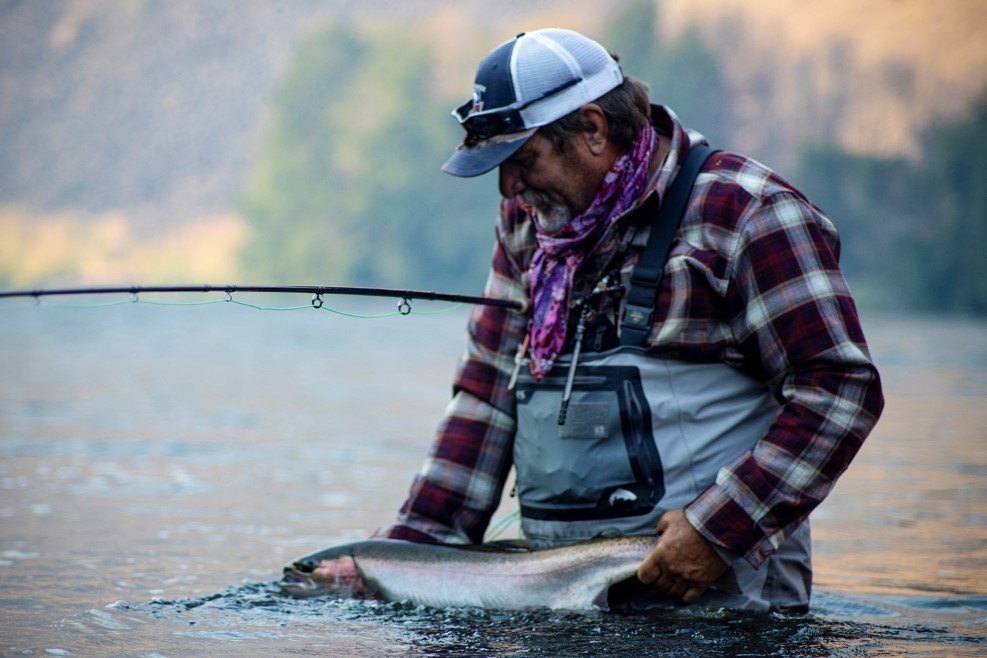 Which river do you consider to be your "Home River" (or rivers)?
My home water is the Provo River in Utah. It is only ten minutes from the house. The Provo is one of the best trout fisheries in the world. It has awesome swinging water, great hatches and year-round fishing. As for steelhead rivers, I feel most at home on the Salmon in Idaho. I have been quite fortunate in my lifetime to have fished some of the greatest water on the planet. I have traveled to some amazing places. Ireland is a favorite destination, as is British Columbia. I enjoy the travel and seeing new water. But the Salmon River is home. I have set up a steelhead camp in the same place every year for over 30 years. The fishing is OK, the camp is what it is all about.
Which river that you have never fished before would you most like to try?
I do not have a bucket list and really don't dream of any faraway places, but if I could, I would like to fish the east coast of Canada someday. It is the history of the area that is the draw. You could plunk me down in any of the classic Salmon rivers and I would be content. I am not a big fan of going to a lodge for a week, I enjoy doing it self-guided. But there is something about being guided out of a classic wood canoe that intrigues me.
What is your favorite two-hand rod, and what line do you most like to use with it?
My favorite two-handed rod of all-time would be Winston's 13'3" 7/8 B2X. I balance it with a Hardy Bougle, Hardy JLH Salmon or a Hardy St. Andrew, it just depends on the mode. My favorite line is an Airflo Tactical Steelhead. They are an old school shooting head that went out of production ten or so years ago. Best line ever made, and I take good care of them. Their durability is unreal. I prefer a basic running line in .031 diameter. Call me old-school, but I like the feel of fly line in my hand over mono. I still hand-tie my leaders for dry line but find the poly leaders work just as well. As for sink tips, I just loop on twelve feet of type six for most of the cold-water conditions I am faced with. I have a Skagit head for fishing very large flies, in off-colored water. I have a strong dislike for stripping in the running line, so the shorter heads see minimal action. I have a 13'4" 6/7/8 CF Burkheimer that shares equal time with the Winston. The system I fish with the Burkheimer is the same as the Winston. I build bamboo fly rods and have a 12' 3" 8 weight taper I really like. I will fish the cane rods when conditions are right.
What is a single – or a few – favorite memory from your times on the water?
Watching both my sons catch their first steelhead will always top the list. My son Trevor was 15 years old when he caught his first steelhead. The fish came to a swung fly in the camp water on the Salmon River. My son Jesse caught his first steelhead at the age of 35, two runs below the camp water on the Salmon River near North Fork, Idaho. The joy of catching a steelhead after going through all the hoops to learn how to cast and present the fly tops the list of fly fishing experiences. You work so hard for every grab.
What is it going to take to conserve wild fish?
Conservation is something I have been involved with for most of my life. Being actively involved in an organization that is focused on saving our fisheries is very important. The more voices the louder the message. Utah is doing a fantastic job working to reclaim native fish. As for the ocean-going species, there is much work to be done. Education is key. If you don't know you won't act. It is time to step on some toes.
What are your plans for the next five years?
Nothing major, being retired has benefits. The trout fly tying book is a priority, I would like to get it finished as soon as possible. Building bamboo fly rods is high on the list. And there is always a need to spend time at the vise. My life revolves around family and fly fishing, living day to day is the plan.