Icons, a new web series from Swing the Fly, will look at the most influential figures in spey casting and swinging flies from North America and beyond in the 21st century.
With the recent announcement of the sale of The Fly Fishing Shop by founders Mark Bachmann and Patti Barnes, we thought it perfect to kick it off by paying tribute to their contributions through the shop and Sandy Spey Clave to the boom in popularity of spey rods and casting in the Pacific Northwest.
The Fly Fishing Shop was in business 40 years and hosted 18 Sandy Spey Claves. What accomplishments are you most proud of (related to steelhead, two-hand rods, etc.)?  
I don't know whether being in the right place at the right time is an accomplishment or not, or whether a person is supposed to take pride in it. Certainly no one accomplishes much without a good team and I've had some great ones. Probably the 210 member Mt. Hood Chapter of Northwest Steelheaders that started the removal of Marmot Dam project rolling 1970-1974 was the most aggressive team I ever served on. The Fly Fishing Shop/FlyFishUSA team 1981-2008 era was nearly as good. By the end of 2008 to 2022 it had become it had become a rear action retreat, which is much more difficult and takes as much skill and dedication. The Sandy River Spey Clave was actually someone else's idea, but we made it into the standard of such programs, thanks to my wife Patty. I got most of the kudos and glory, but she was the glue that held it together with chocolate chip cookies, 43,000 of them (120 per bucket X 20 buckets per clave X 18 Sandy River Spey Claves) and about 14,500 lunches and a similar number of breakfasts. Of course, we had help with many of the breakfasts, lunches and dinners. Manufacturer rep groups financed them. Patty baked every cookie in our home kitchen and made sure everyone got fed.
Home River(s)?
I live in the Sandy River watershed because it is the most difficult teacher available. It is basically a winter rain forest river, dropping 6,000'in 55-miles from the glaciers to sea level; is cold and is very fluctual, but has steelhead in fishable numbers from November through April. The Deschutes is my second home August through October. It is the exact opposite of the Sandy: a desert river with very stable flows where the steelhead come easily to the surface for flies and most fishing is done with a floating line.
Favorite Fly?
Fly fishing is a sport rooted in learning to adapt to the problems that nature presents to you, so trying to make fish adapt to your one single favorite fly pattern across all times of year or to all watersheds is improbable, counterproductive, maybe absurd, and boring but here goes: a Fly du Jour for the Deschutes, and a Black & Blue Marabou Tube Spey for the Sandy.
Favorite Two Hand Rod? (If you had to pick just one)
Beulah 7132-4
Line for that rod?
RIO MAX Launch 525 gr. w/11' T-11, Beulah Elixir 450 gr.
A Favorite Memory on the Water that stands out?
After 65 years of fly fishing and 40 years of guiding there is such a kaleidoscope of great memories that flit across my consciousness it is hard to separate out a favorite. Our Spey Schools were the most fun thanks to highly skilled luminaries such as Simon Gawesworth, Andy Murray, Al Buhr, Dec Hogan, Josh Linn, Marty Sheppard, Brian Silvey, Marcy Stone, April Vokey, Travis Johnson, Ron Walp, and Hawkeye Hawkins.
What's it going to take to save wild steelhead?
I have spent the last year studying the geologic history of the Columbia River basin and concluded that wild steelhead will probably out-survive humans, including the event of nuclear war. The evidence clearly shows that there was a probable annihilation of all salmonids in the basin lasting for probably ½ to 1 million years during the beginning of the great lava floods started about 17 million years ago. This is due to massive outpouring of lava that buried approximately 30,000 square miles under 5,000 to 16,000 feet of 2,000 degree lava. This initial eruption lasted 1.1 million years and flowed into the Pacific Ocean 300 miles away. During this period the atmosphere above the lava flows would have been close to what one might expect to find on Venus. Lava flows lasted intermittently for 7 million years resulting in super-heated water and acid rain everywhere they occurred. This had to impact salmonid populations to a degree that humans have no power to replicate nor to eliminate. During this period 1/5 of Idaho, 1/3 of Oregon, 2/3 of Washington State, and including all of the Columbia River channel from Spokane to the Pacific Ocean was paved like a parking lot.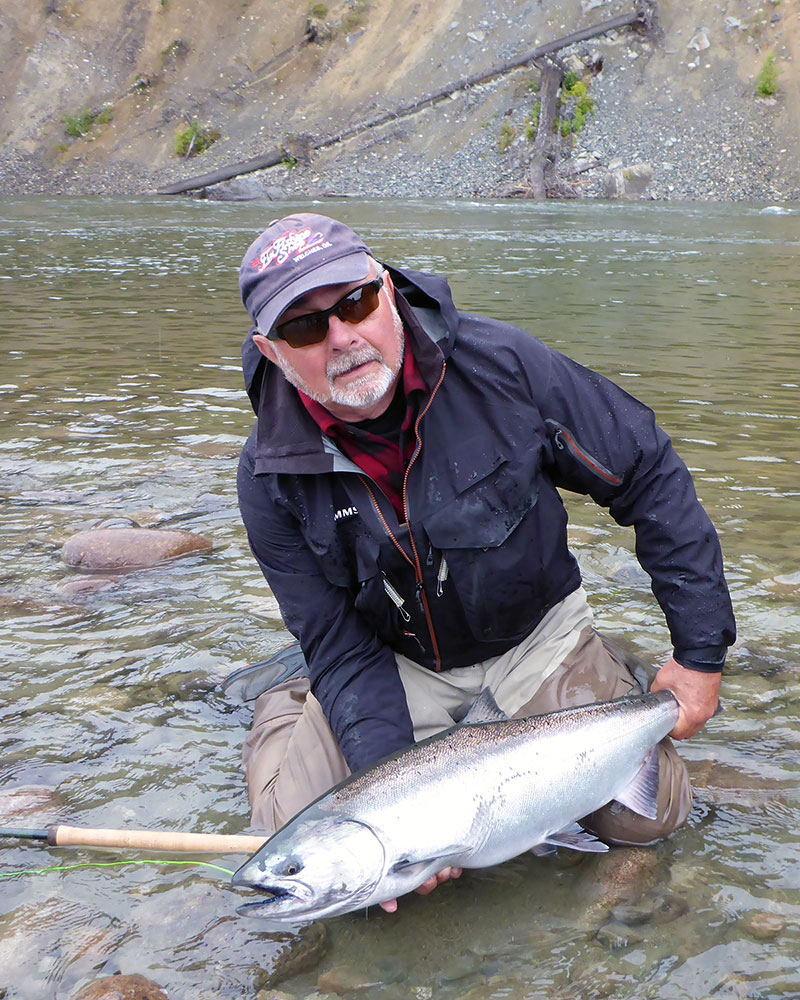 Another more recent period was during the last (or all) glacial maximums during the last 2.6 million years, when sea levels were 400' to 420' lower than today. There may have been a barrier falls at the mouth of the Columbia River which might have excluded all anadromous fish migrations for 1,000 to 5,000 years at a time.
Who knows what effects the giant ice age floods might have had on anadromous fish, but our current civilization would have deemed them as catastrophic. Many geologists believe there were possibly more than 100 floods that would have submerged the tower in the city core of Portland, Oregon, above the 20th floor.
That doesn't give our civilization the right to do thoughtless things to fish and fish habitat. Our egos lead us to believe that we have the power and the right to control everything.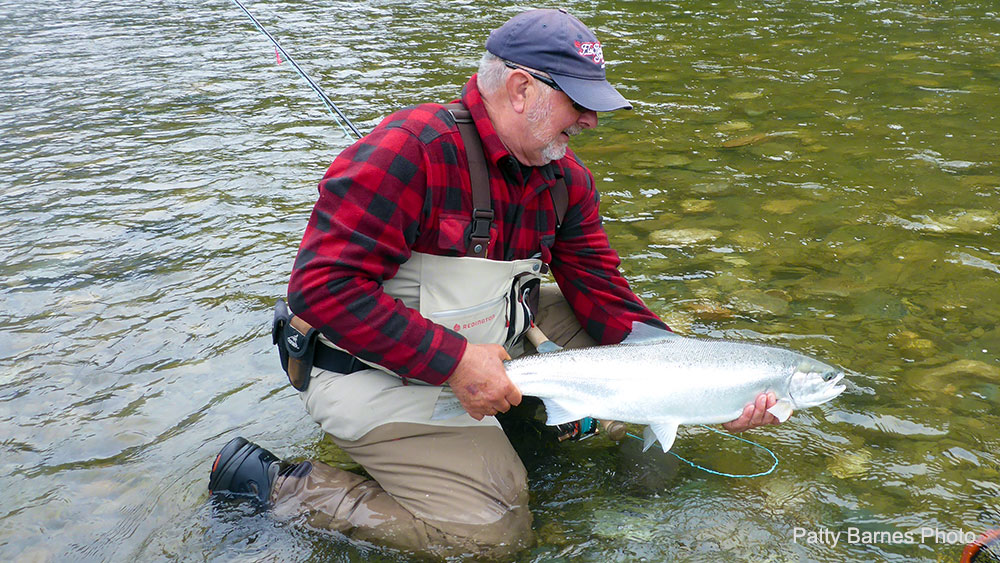 There is a certain breed of cat among us that believes we can turn the clock back to 1800. If our time machine landed at the mouth of the Sandy River, it would be 5 years before the Lewis and Clark expedition got there. We would find that a pyroclastic flow from Mt. Hood and buried the Sandy under a lahar 26 feet deep and most of the anadromous fish had been displaced. The delta of the Sandy had the flow of the Columbia pushed tight against the north shore.
To roll the ecosystem back to 1800, all modern transportation, housing, agriculture, and electrification would have to be eliminated and as many as 325 million of the 331 million Americans would have to die to reach the 5.3 million population of 1800. An area the size of Arizona and Nevada combined would have to be turned back into beaver swamps just to make the water flow right. Doubtful that is going to happen. Humans think they are special, and they think making babies is their God given right and it is fun. Of course, if our population did suffer such a precipitous drop, some other country such as the Russians or Chinese would take us over. Doubtful they would be more conservation minded.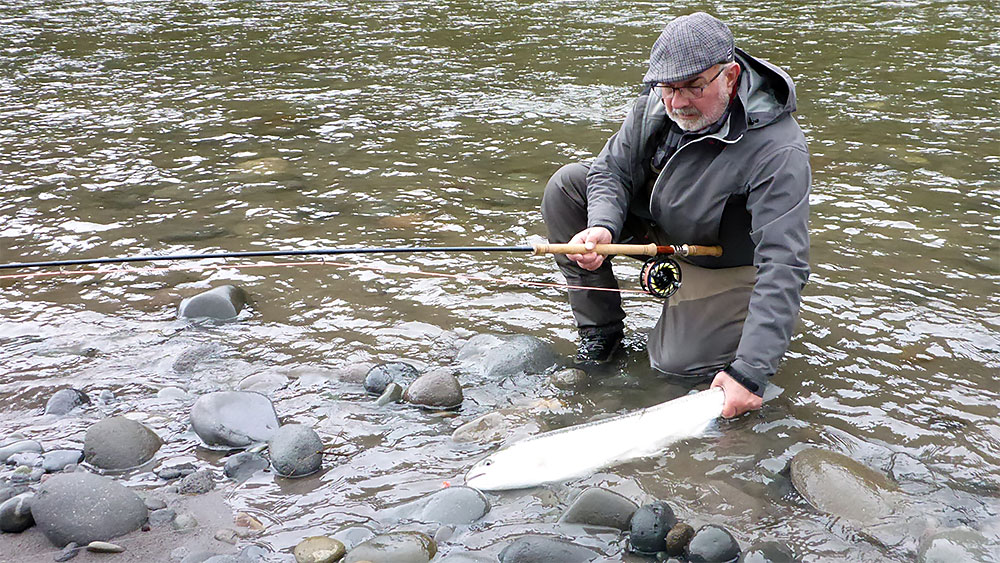 If wild steelhead need a boost from humans, it would be to give them more space. My home community has 100 miles of class one streams, most of which are bordered by private homes or campgrounds. A city the size of Portland or Seattle has hundreds of miles of ruined streams within their urban sprawl. Most of these streams don't even show any more as they are conduited underground. Many dedicated conservationists own waterfront real estate, but don't see themselves as part of the problem.
I spent 38 years and an estimated $300,000 of my time and out of pocket expense helping remove a dam from my home river. The project started in 1969 and the dam came out in 2007. The 22 megawatts of lost electricity are hardly noticed from the Northwest Power Grid. Fish passage problems where the dam was have been eliminated, but much to my chagrin the improvement to the fishery is barely noticeable.
No matter how appealing and how noble eliminating hatchery steelhead might seem, maintaining a sport or commercial fishery at the same time may not be a practical idea. Personally, I'm going to keep fishing if they let me, and I will use single point barbless hooks and hope for the best. Based on the geologic evidence, I don't believe steelhead will go extinct in my lifetime. Matter of fact I'm silly enough to believe that they've already hit the bottom and are ready to rebound.
Plans for retirement.
Already in the scale-back process. The retail business has been sold.
It is hard to say what is next. The choices are endless: a home remodel, a trip to Loreto, a tour of the great waters of the west, B.C. steelhead fishing, and we still own the Outfitter Corp.