Icons, a web series from Swing the Fly, looks at the most influential figures in spey casting and swinging flies from North America and beyond in the 21st century. In this installment, we visit with Kerry Burkheimer in his shop on main Street in Washougal, WA, where he shares the meaning of "hand rolled soul," explains how he became one of the most innovative spey rod designers in the world and why his mom slept in the trunk on fishing trips.
How long have you been operating out of the Washougal rod shop?
I've been here for 25 years or so. I was born in Boise. I was 9 years old when I caught my first fish on the fly. Fishing and camping was a way of life. We actually didn't fish for steelhead here for a while, which is weird to think about now. It was eggs and beads and stuff, just wasn't for me. The thing that really got me was building my first rod. It was a trout rod, a 9' 6-weight, and I caught my first steelhead on that rod. Later, in like 89', Bill (McMillan) was here and we'd stop over to eat blueberry pancakes and stuff. They're dear friends. When I first met him, he was running a shop called the Greased Line. I walked into that place, and I remember some of the guys were talking steelhead, I didn't even know what the Greased Line meant at the time, and I walked in and who's behind the counter, it was Bill.
My dad loved small stream fishing. In Idaho, he'd get into the hardest places and it really left an impression. He's passed now, but I thank him for teaching me. See, we'd eat the fish and we wouldn't fish for hatchery fish. That was for somebody else. That wasn't for us. He taught us to take a fish or two from each spot, and you know, move on. He taught us at like two years old the idea of stewardship. He wasn't a huge backpacker or anything, just a man who seeked the outdoors and he understood balance. It wasn't about the equipment or anything, it was all about fun. We'd always sleep by the river somewhere, it wasn't like it was fancy or anything. I mean, my Mom would sleep in the trunk from time to time. We were just always together, out there.
How did you get involved in spey rod building?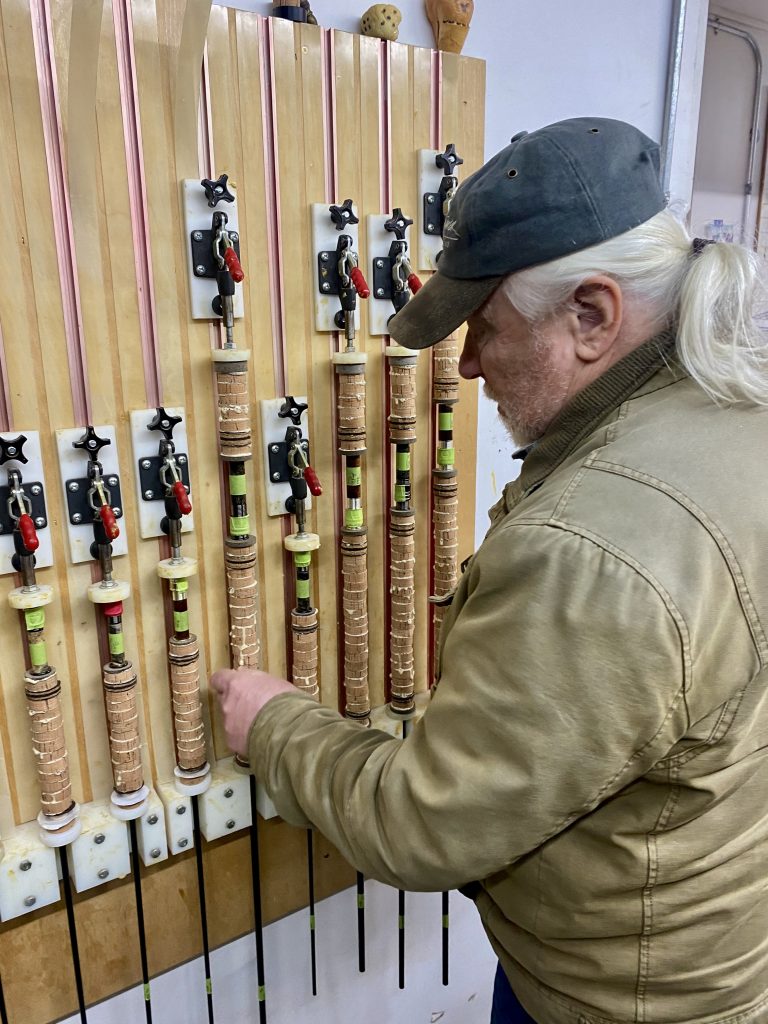 I was living upriver on the Washougal, near Bill (McMillan) and John (Hazel.) When I quit the rod shop I was working at the time, John asked me to join him guiding for a while on the Deschutes to see how I liked it. To this day John's one of my best friends. He came to me one day, at this point I had started to make rods but didn't have equipment to make the blanks. Back in the 80s, the rod company I had been working for still allowed me to come in after-hours and pay the guys I had trained time-and-a-half to build blanks. Then, at a sportsman show in San Francisco, Mike Maxwell from Golden West was there, and Mike's trying to explain this spey rod thing on concrete with no water to load the rod or line. It was brutal! So some time later, John came by and told me he wanted to make a few two-handed rods, just to try it. I was concerned because they were so much material! Anyway, it probably took six-months or so to work out the first one, a 15' 10-weight, which John took up to the Dean River with a few guys. He came back and said it was just awesome. The whole rod flexed, it wasn't too soft in the tip, and you could really cast the thing. They ordered a few. And from there, that was that.
One of your slogans you use to describe your rods is "hand rolled soul." You use that word a lot, "soul," what does that mean to you?
Oh gosh, I don't know if I've ever thought about that much. For me, it's a term I'm using that describes what's at the center of it all. When we're making rods, we're thinking about where they're using it, why they're using it, how they're using it and hopefully we can help them get to a higher plane of experience. It's almost a real spiritual level when we're hand crafting things from start to finish, it's a zen approach to things. When you're grinding handles, or finishing something, there's a rhythm. The people that work here, they're really striving for that level of craftsmanship and we hope that carries over to every part of the experience.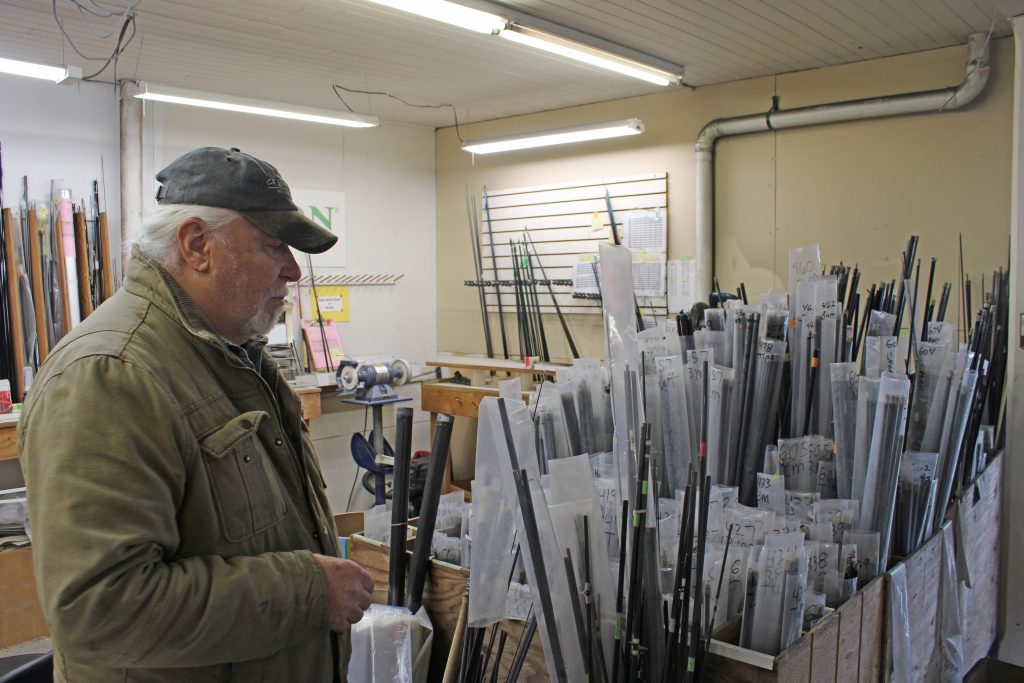 Which river do you consider to be your "Home River" (or rivers)?
The East Fork of the Lewis is my home water. I've fished that A LOT. I was fishing the East Fork 3-5 days a week for a long time. When you fish that much, you start to get a feel. It's that soul feeling. You're watching the seasons change, you're watching the water change. It's not a portrait, it's a movie. I like to fish alone a lot, too, so I do a lot of that.
Which river that you have never fished before would you most like to try?
Maybe the Haida Gwaii up in BC? My nephew Shane (Anderson) just got back from there and it sounds like he had a pretty good time. There's a lot of stuff in BC I'd like to check out. Here in the states, I'd really like to spend a bit more time in northern California. Fish the Klamath. See what that's like. My first flies came from there. My dad made a deal for a .22 pistol for a bunch of flies with Sammy, this local indian kid, that he'd had tied himself. I remember picking up those Muddler Minnows and just stroking them, not even really sure what they were.
Do you tie? What is your favorite fly?
I love to tie flies, but I haven't for a long time. Somewhere around here I've got an old HMH vice and a bunch of feathers. Hopefully they aren't too chewed up by now. I was just talking to my wife about this, I've got to get back to tying.
Paint us a picture of your perfect day swinging flies, including your favorite two-hand rod, and the line you most like to use with it?
There's two that come to mind. The first, it's misty and a little foggy. It''s late afternoon and I'm skating a dry fly on the East Fork at a slow, rhythmic place. It's harmonic in a way. Everything's in concert.
The second one, there's a bit of sunshine involved, and it's bigger water. Something like the Skeena, a tributary you hike into. I'd love to fish a dry there, too. I'm probably using a 7 or an 8-weight, depending on the size of the fish. If I hook something big, I want to be able to make sure I get it in before I exhaust the fish. Probably a longer belly scandi line? I like those.
What is your favorite memory from your times on the water?
I remember one fall day really well. I probably shouldn't even be talking about this (laughs.) It had rained quite a bit. Sometimes, here, it rains, and then it stops for two or three days. The river comes up and then obviously, it falls. It's ideal. One day, I was in the shop, it's 1 PM and I should have been making rods. I headed right to a spot I called my "Private Reserve," and I hiked down, and the fishing was absolutely off the charts. The water was probably 50-degrees, the air slightly warmer. Just, perfect. All dry flies. Bill told me one time that sometimes steelhead are easier to catch than trout and this was one of them. Steelhead just porpoising and competing to take my fly. All I had to do was get it wet.
You've had a long list of contributions to steelheading and two-hand casting. Is there one you're particularly proud of?
You know, I think our contribution to two-handed rods has been pretty impactful. I've enjoyed being able to enrich people to get out on the river. There was one particular trip, I was going with a group of doctors with John (Hazel) and there was a man in my boat. I'd guided him before, but on that day, he was super early back to the boat. I asked him, "Is everything ok?" "It's my shoulder," he told me. 'I've got bone spurs in my shoulder. I'm probably going to have to give this up." So, later that day, around 11;30 or 12, we broke for lunch and while we were taking a break I suggested he try my two-hand rod, one of those 15' 10-weights I'd made. He had been on a 10' single hand 8-weight. He was in enough pain as it was, he pretty much laughed at me suggesting he use this giant rod. No more than 45 minutes later, he had it, the fly 45-50 feet out there, that's the sweet spot on the Deschutes and he finished the rest of the trip with it. He bought a rod right then and there. He told me that rod changed his life! He was going to have to hang it up. It was then I realized how much I was enriching people's lives and I really started thinking of everything that way.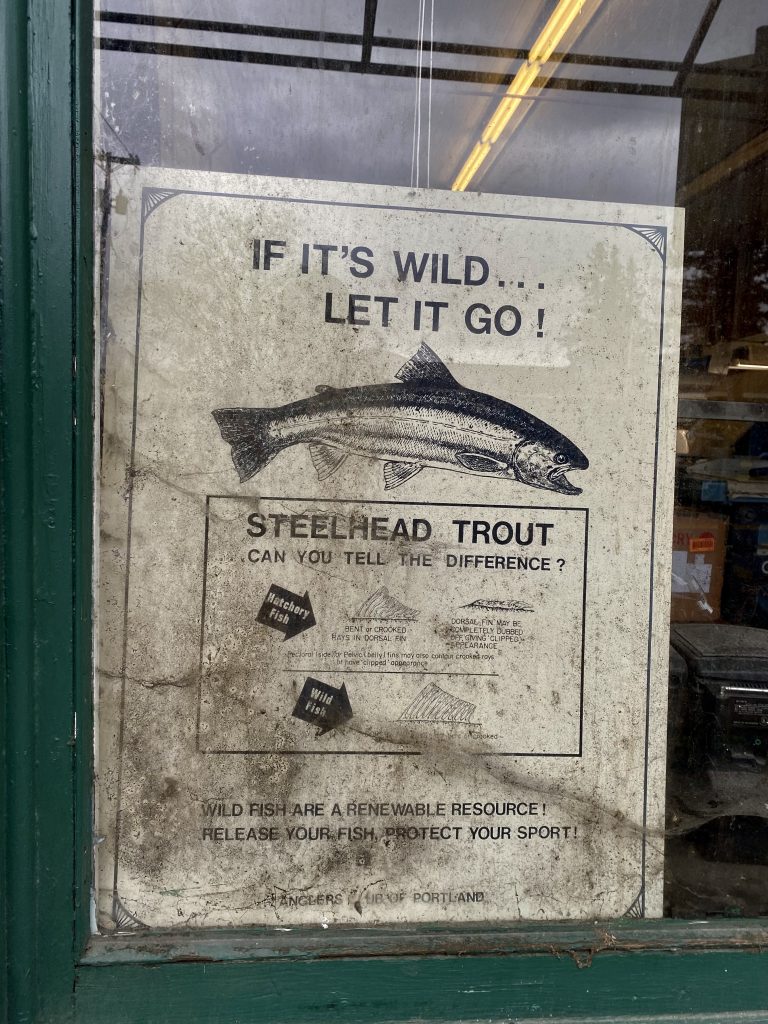 What is it going to take to conserve wild fish?
Holy cow. That's a great question. This is a question I ponder a lot. I'm honestly worried that we've gone too far. I'm worried there's not a comeback, and there's multiple reasons why. We can blame any number of things: the dams, the development, hatcheries, but it's everything. Don't even get me started on what they did at Dworshak. I was on the North Fork of the Clearwater when they were filling the pool above the dam. I remember there was a promotional poster at the site showing a jet skier and I remember thinking "what in the WORLD are you doing? I turned around. It felt like my heart was being ripped out. But, you know something, I've got hope. It's not simple, but, and let's compare it to a farm, we need to make sure we've got seed. We need fish coming back to spawn. Ocean conditions are probably the biggest issue we don't have real control of, that and international commercial fishing and nets, etc. How do you deal with international policies and practices? I'm not ashamed of the prosperity of America, we've worked hard for that, but that doesn't mean that anyone is entitled without conscience to take a resource and destroy it completely, for a short term value.
How would you describe the responsibility of the fishing industry regarding wild fish conservation?
The way I see it, I'm building custom stuff and people are using it to go out and catch fish. We've really tried to educate the people of what goes along with it. The resource is what you can enjoy. I can't even remember the last time I killed a wild fish. Not a steelhead. If you can share not only your passion but the reason why it's so important to work to save this amazing resource, that's that soul connection. For me, It's a soul connection. It's not a numbers game, it never has been, I mean we all go through it, but now, it completes something for me and then I get to let it go.
What are your plans for the next five years?
My wife and I just recently bought some property in Montana. Maybe 70 miles from Salmon, Idaho. We'll be coming right down the Lochsa, hitting the Clearwater, the Snake, the Grande Ronde. I'd like to get to the point where I can at least semi-retire. The shop's doing well, the rod's are being well received. But I'm going to retire. Kind of (laughs.) The reason we picked Montana is we've got 5 acres and it's all natural, nothing changing except for the house we're building. In a perfect world, I'd like to continue to design rods. I've got a mind for that.
I was just talking to my graphite guy yesterday, asking him about materials I want to experiment with. He told me, "you know they're going to charge you for these samples, right?" "Of course they are," I told them. "It's fine.I get to build things people love. I actually get to do what I want to do, why would I stop?"