Icons, a web series from Swing the Fly, looks at the most influential figures in spey casting and swinging flies from North America and beyond in the 21st century.
With the recent publication of John Shewey's latest masterpiece of angling history, Spey Flies: Their History and Construction, we thought it would be fitting to have him tell us about one of his journeys into the past – in this case, the birth of swung flies on the River Spey and other famous streams of the Scottish highlands. John also has words of wisdom for the present state of spey casting, and what he thinks the future might hold for our sport.
You've had a long list of contributions to steelheading and two-hand casting. Is there one you're particularly proud of?
Probably Classic Steelhead Flies, published in 2015. In the 1980s I studied the work of Trey Combs and have always tried to attain his level of journalistic professionalism, which is largely characterized by his sound research methodology. I consider Classic Steelhead Flies to essentially be the next step in the Trey Combs series, following in the footsteps of his iconic Steelhead Fly Fishing & Flies to record for posterity the origin stories of many of the sport's best-known fly patterns. With Classic Steelhead Flies, I think I was able to make a compelling case for the Eel River being the "founding river" of the codified pursuit of steelhead with flies, and John S. Benn being something of a "founding father" if you will. Certainly at the same time—in Oregon, Washington, BC, and on other streams in CA—fly anglers were succeeding in catching these enigmatic fish on flies, but on the Eel, with John Benn in the forefront, the sport really found its legs…and its founding flies. Until the book was published, John S. Benn was virtually forgotten, but using source material that was unavailable to Trey Combs in the 1970s and early 80s, I was able to cobble together his story and present in what I hope is an interesting and accurate chapter. Trey even wrote the foreword for Classic Steelhead Flies, fully cognizant that he had entrusted his legacy of research to me.
You have a new book titled Spey Flies: Their History and Construction. What inspired you to write this book, and how does it expand on your previous work?
The roots of this new book go back to the amazingly innovative years of the 1980s at McNeese's Fly Shop in Salem, where I (and others) became enamored with Spey flies and the new generation of steelhead flies that were inspired by them. My interest in them led to the previous iteration of this title, but immediately upon that book being published I knew there was more to tell, because I left a fair amount on "the cutting room floor" and because my research on the subject continued apace. Ultimately I visited Scotland a few times and even prior to that, this magical thing called the internet came to the forefront and documents of all kinds, from letters to books, were and are being digitalized at an exponential rate. By applying sound research methodology via the internet, by visiting libraries and other places in Scotland, and by other means, I was able to ferret out the stories behind Speyside's most prominent local fly dresses of the 19th century. The new book contains those biographies along with a great deal more detail on tying, materials, and patterns.
Of all the Spey flies you have researched for your book, do you have a favorite? How about a Spey fly you have designed yourself?
I really don't have a favorite, though I recognize that over the decades of my own fishing, I have relied on the Carron Fly and the Purple King more than any other of the classics. Of my own "Spey-inspired" patterns, the old Midnight Canyon has always been my favorite because it was among my first and accounted for some very memorable fish.
Which river do you consider to be your "Home River" (or rivers)?
For nearly 40 seasons I fished the North Santiam for its summer run, so certainly that has been my home river, but owing to management changes it simply does not sustain the kind of fishery it did for most of those years. I also spent a great deal of time on the North Umpqua, especially in the 1990s when I lived in Bend; but these days I almost feel guilty fishing the summer-runs on that fabled river, though I try to put a few autumn days in each year if just for posterity. I've fished the Deschutes a lot as well, along with most of the other Columbia/Snake summer-run tribs, but the North Santiam and the North Umpqua have served as my stomping grounds.
Which river that you have never fished before would you most like to try?
Oddly enough, I don't really think that way, because I've put so many hours into my home water that I no longer have any wanderlust about steelhead angling; but I did realize one long-held dream in 2018 when I had the chance to float and fish the wilderness stretch of the Rogue River in October. Spectacular place, especially that time of year.
What is your favorite two-hand rod, and what line do you most like to use with it?
Many years ago I got my first two-hander—a 15-foot Scott that seemed like a mega-broomstick by today's standards. But before I got particularly adept with it, serendipity intervened: my longtime hunting and fishing partner, the late Forrest Maxwell, began making cane fly rods, having learned the craft under the tutelage of a couple of the best Northwest rod makers. His first and best rods were a matching pair of solid-core 8.5-foot 8-weights, one for me and one for him. When he gave me that rod, I probably teared up, but I was also eager to land a first steelhead on it, which took exactly one pool—the first pool I fished with the rod yielded a 30-inch fish and fighting and landing that fish on the Maxwell cane rod was nothing short of stupendous—intoxication led to addiction and to this day that 8.5-foot rod remains by far my favorite steelhead rod. To quote Harold Blaisdell from his book The Philosophical Fisherman (1969), "How can one find adequate words to describe the sweet feel of a rod that makes casting an aesthetic delight, yet which adds little to one's ability to catch fish?"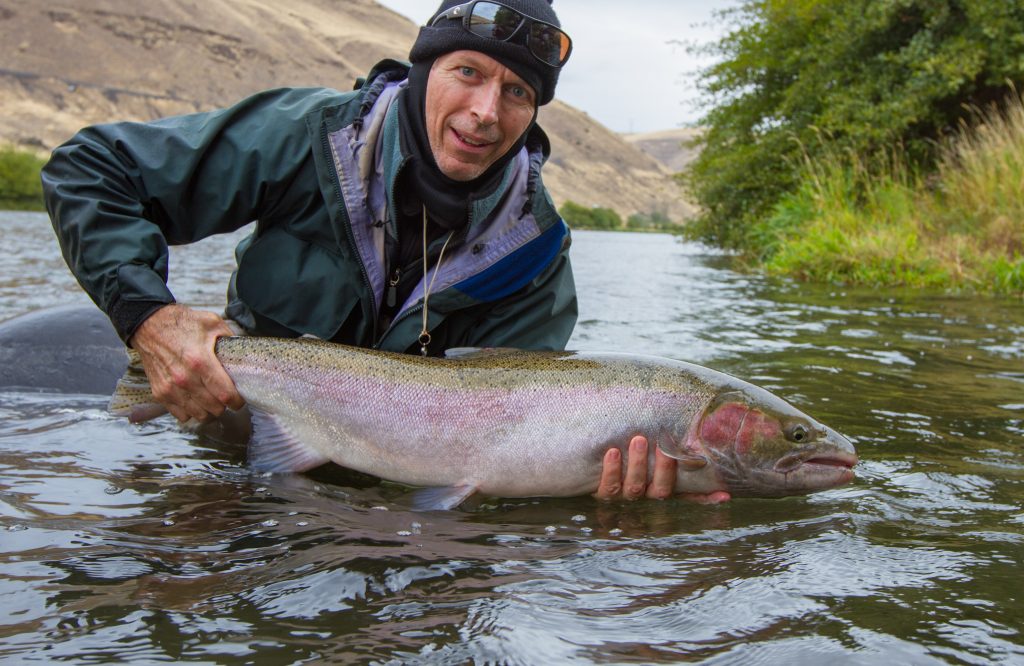 What is your favorite memory from your times on the water?
There are just so many great memories that singling out one is just about impossible. One standout was during an October week when Forrest and I were camped out at Eagle Rock on the North Umpqua, and the river was mostly deserted. We saved enough time the first evening to fish a couple runs below the campground and I swung up a fish on a flick cast of about 15 feet—one of those short casts you make to a piece of water that looks a little fishy so you don't want to wade through it on your way to the garden spot without flicking a fly in there. As the fly (Spawning Purple) came round, perfectly visible to me owing to proximity and clear water, a fish materialized from below and outside, drifted in with the fly and turn on it. Turned out to be a hatchery hen of 9 pounds and since we were camping for a week, I opted to kill it for the camp larder. So, I waded ashore with it and only then did I see the car that had stopped on the highway embankment up above. When I climbed up to the road I was greeted very enthusiastically by a young man who was very excited to have witnessed the battle; he explained to me that he had finished up grad school back east in the summer term and before going to work at his new job, he decided to make a pilgrimage to the North Umpqua because he had always wanted to try fishing for steelhead in their native range and had read so much enthralling detail about this river. About that time Forrest came walking up the road from down below and as it was just about properly dark by then we invited the young man to our camp for dinner. Forrest had brought with him a big paper grocery bag full of chanterelle mushrooms and a bag of big Walla Walla sweet yellow onions. We cut everything up, steaked some of the steelhead, and threw it all into a huge cast iron skillet with two cubes of butter and salt and pepper. By the time everything was cooking, the scent of that meal permeated the entire area and the lanterns were attracting big October Caddis by the droves, some of which ended up in the pan. That was certainly the most memorable steelhead-camp meal! Many of my other favorite memories revolve around helping friends and family catch their first steelhead—my brother Mike (who has not lived in the West since he was 18) caught his first steelhead on his VERY FIRST cast for steelhead; no joke! Many years ago, Forrest and I "guided" my then wife to her first steelhead, and as we were in the habit of killing hatchery fish for the grill, when she beached her steelhead, Forrest instinctively grabbed a big rock and whacked it unceremoniously on the head, much to her horror! He immediately felt unbelievably bad and was difficult to consul, but she got over it pretty quickly, at which time I explained to her that dispatching a steelhead in that manor is called "giving the fish a granite shampoo." The funniest part was in the retelling—some time later she was relating the story of her first catch to some of my angling friends and when she got to the end, she said, "…and then Forrest killed it with the gravel shampoo!"
(I could go on and on and on with the stories!)
What is it going to take to conserve wild fish?
I tend to have more questions than answers. Conservation success stories are extremely rare; battles can be won from time to time, but winning the wars is rare. I often relate the lesson we should learn from the Eel River, the founding river. In John Benn's time, the estimated steelhead escapement of the Eel was as many as 150,000 steelhead annually, with massive populations of both summer-run life history fish (the runs that the sport was founded on) and prodigious runs of winter-run life-history fish. A few years back, one of the magazines ran a story celebrating the recovery of winter steelhead on the Eel because the return that year was about 1,500 fish. That's a case of shifting the baseline; of not being aware of history. 1,500 fish was a milestone only when compared to runs in the past 70 years. But 1500 compared to 150,000? And those 1500 were winter-runs fish; the Eel's summer-run fish—the fish on which our sport was founded as a codified pursuit—are functionally extinct. To me, that's the critical case to always keep in mind: if humans can obliterate a population of well over 100,000 steelhead in a single river within just three or four human generations, then we are certainly capable of exacting such demise on populations of steelhead anywhere.
We now live in a time when more anglers pursue far fewer steelhead. If we were to go the route proposed by many wild steelhead advocates and cease all stocking of summer steelhead in the Columbia/Snake basin, how many of the rivers would have enough wild steelhead to support a sport fishery? Because of that question, I think the time will come when fly angers will need to ask themselves a critical question: what's more important, the existence of these steelhead or our ability to fish for them? And therein lies another potential quagmire: if we don't have a robust community of dedicated, enthusiastic steelhead fly anglers, who will step up to be the advocates for and protectors of these steelhead populations? And if we don't have robust runs of steelhead, how will we maintain that population of advocates? Who will be our heroes?
One thing everybody can do is support the organizations that fight for wild fish and the habitat wild fish need. The single-species model of conservation is largely ineffective: we have to continue to move past the idea that we are trying to save a single species and advocate for healthy ecosystems. Many conservation groups follow that line of reasoning. That's why I'm a big fan of Western Rivers Conservancy—they identify critical riparian land parcels that they can buy, then do needed habitat-improvement work, and then find ways to create unfettered public access, usually by conveying their lands to public agencies. A good example is sprawling Cottonwood Canyon State Park on the John Day—its started out as a WRC purchase of the old Murtha family ranch.
What are your plans for the next five years?
As I become increasingly aware that targeting wild steelhead on rivers such as the North Umpqua might be detrimental to the fish, I've increasingly limited my steelhead fishing to the Deschutes and one other Basin tributary. So to take up some of the slack, I've really enjoyed rediscovering the childhood trout angler in me: I love exploring very remote creeks for native trout. For example, this September I spent eight days fishing the most remote trout creeks in Oregon for native redbands and native Lahontans. I intend to keep doing that, but of course steelhead to swung classic flies is my addiction, particularly summer runs, so there'll be no end to that pursuit any time soon, but like many of our brethren, I'm more than happy to sit out a season on any given river when the runs are too depressed to warrant fishing.
I have a few other book projects in me; I'm not sure if I'm finished with books in the fly fishing genre; probably not, because I'd love to write a book of true stories from a lifetime of outdoorsmanship.