Icons, a web series from Swing the Fly, looks at the most influential figures in spey casting and swinging flies from North America and beyond in the 21st century. In this installment we visit with Art Lingren, a prolific writer and historian of all things related to fly fishing. Art tells us about his love of history, the books he has collected, and the remarkable places he has seen and fished.
Very few people have contributed the amount of flyfishing literature that you have in your career. What was the initial spark that made you such a dedicated historian of the sport?
I do have an inquisitive mind. Roderick Haig-Brown sparked some of that fly fishing historical interest in his "Fishing Books" section in A River Never Sleeps (1946). When I read that section I started collecting books that Haig-Brown wrote, some from local antiquarian book shops, but mostly from antiquarian book dealers in England and Eastern North America. British Columbia had a direct connection to Great Britain, and I became interested in the history of British fly fishing, and that led me to B.C. history. British Columbia's 150 plus years of written fly fishing history is short compared to Great Britain's with its over 500 years of documented fly fishing history. Nonetheless, British Columbia's waters and fish provided early fly fishers some amazing fly fishing opportunities. Documenting the exploits of those fly fishers who left written accounts is important. To that end, I spent many hours in libraries, archives, and special collections and acquired rare books from antiquarian book dealers to satisfy my desire to learn more about those who came before and what fly fishing sport they found on the province's rivers and lakes.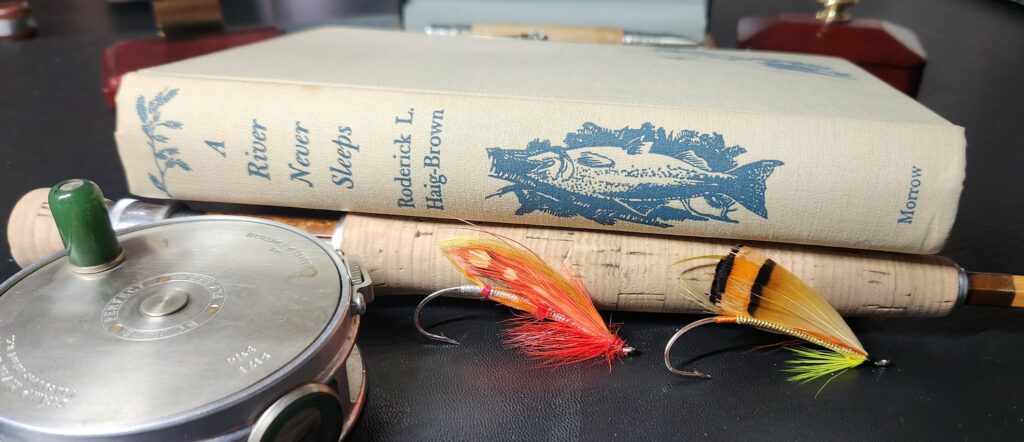 When you are fishing on your own, which river do you consider to be your "Home River" or rivers?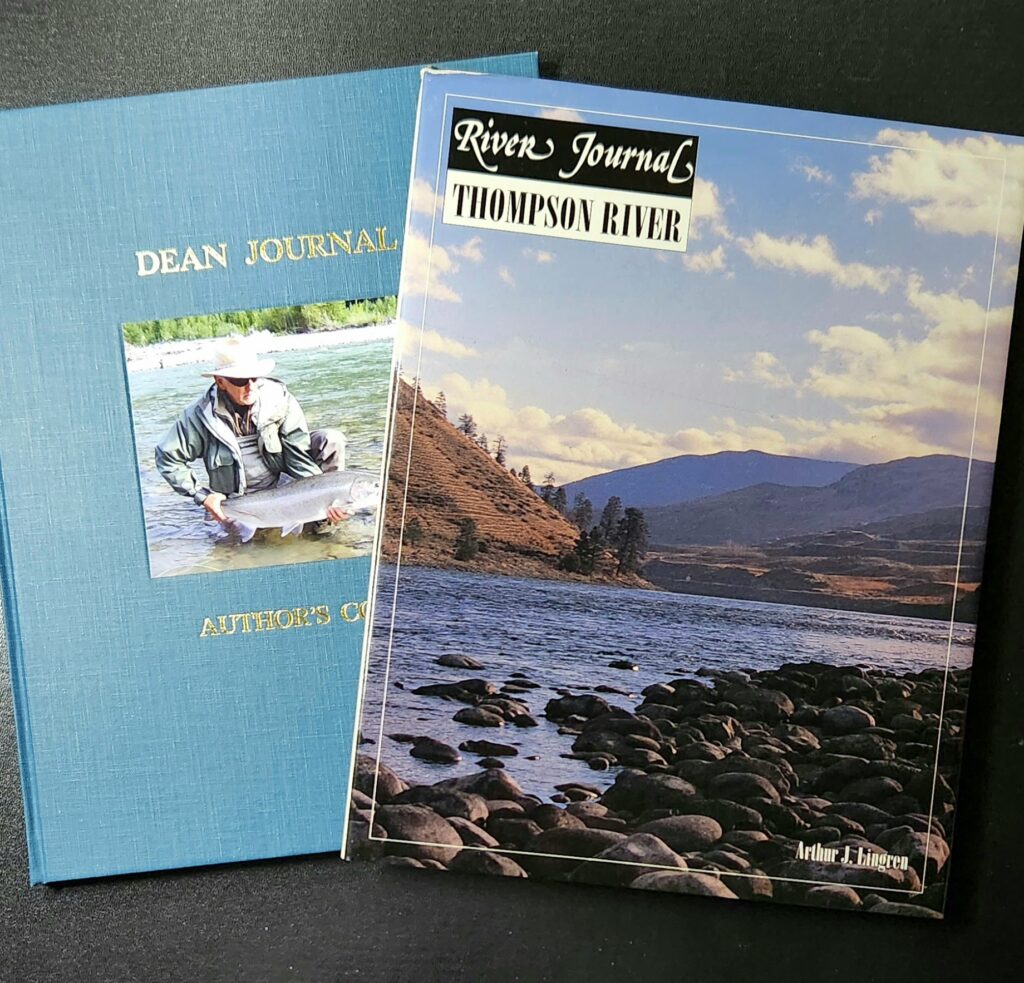 Living in a large city all my life, I have had many favourite rivers over the past 60 plus years. In January 1967, I caught my second steelhead ever from the Cowichan River on Vancouver Island. The Cowichan River had such a good reputation for fishing that the Fly Fisher's Club of London, many thousands of miles and an ocean away, reported catches on their club bulletin board back at the turn of the 20th century. It has been a favourite river for many decades, but having to take a ferry to the Island and then drive for an hour meant it was not easily accessible. In 1969, I started to fish the Thompson River for steelhead and became enamored with that river and its fish. I switched to fly fishing in 1977 and took my first fly-caught steelhead there. It was a favourite and closer to home, but still a 185-mile drive away. On a few occasions, I did day trips to fish that river and liked it so much, my first river book I wrote, River Journal — Thompson River (1994) was about that river and its magnificent fish. Unfortunately, the steelhead runs have deteriorated so badly that it has been closed to steelhead fishing for several years. The Dean River is another river I fell in love with after my first trip in 1983, and I fished it every year, save one, for 35 seasons, and wrote Steelhead River Journal—Dean (2000). Other favourites further away are the Copper River (near Terrace), the Kispiox River (near Hazelton), and the Tlell River (on Haida Gwaii).
Of all the countries and territories in which you have fished, is there any single one that provides a shining example of wild fish preservation?
British Columbia long ago adopted a policy that would not rely on hatcheries to supplement steelhead. Unfortunately, all along the Pacific Northwest steelhead runs are on decline, but one of the best managed steelhead rivers is the Dean, but even that remote river has declining steelhead returns. The river has limited entry and only 50 something anglers are allowed to fish it per day over the 30 plus miles of river. Since around 1990 when the Fisheries Branch asked stakeholders to be part of a Dean River advisory group, each year that group meets and reviews the past year's fishery and discusses issues associated with the river and its fish.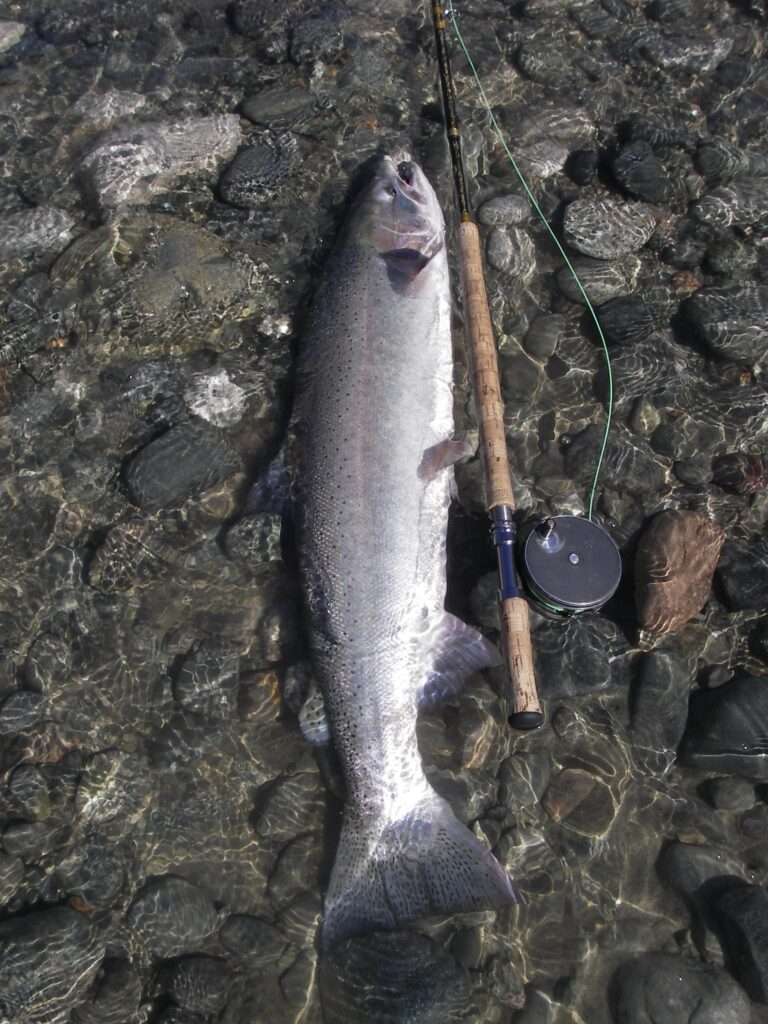 Which river that you have never fished before would you most like to try?
That is a toss up between two Scottish rivers—the Spey and the Dee, both rivers for their historical importance. I prefer to fish steelhead wherever possible with a floating line / greased line. The Dee is where Arthur Woods developed the greased line technique for Atlantic salmon that Pacific Northwest steelheaders adopted. Roderick Haig-Brown introduced it to the Pacific Northwest in the mid-1930s when he used it on the Stamp River for summer-run steelhead. However, having said that, if there were only one river, then it would have to be the Spey River, where the Spey cast was developed and where the ever-popular Spey flies originated. I look at A.E. Knox's Autumns on the Spey (1872) every now and then and look at the dressing of the 16 Spey flies listed in that book. My own Black Spey owes its pedigree to the Black Heron Spey fly in Knox's book. Spey-style flies for steelhead are very popular in the steelhead world and Haig-Brown was the first in the Pacific Northwest to recommend a Spey-type fly for steelhead.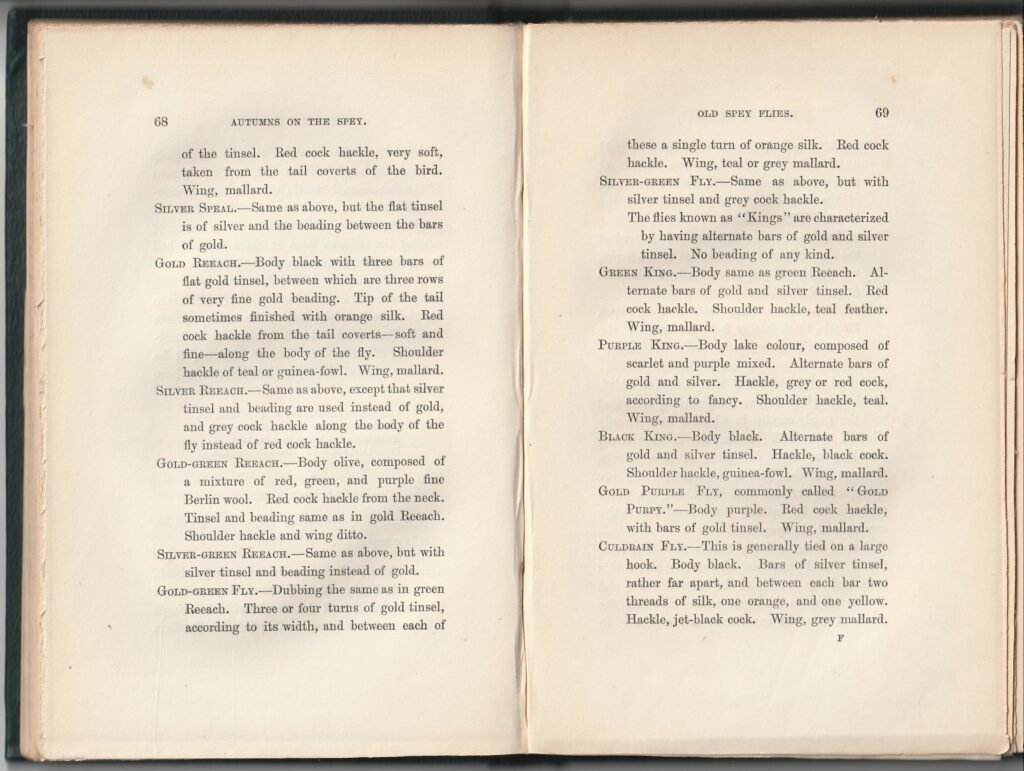 What is your favorite fly?
Lingren's Indispensable. This came off my tying bench in late 1983 and I caught my first steelhead on it on the Campbell River in early 1984. Since then I have caught fish on it on close to 80 waters and have caught most of the fish that swim in Pacific Northwest waters such as summer-run steelhead, winter-run steelhead, cutthroat trout, sea-run cutthroat trout, rainbow trout, brown trout, sea-run brook trout, bull trout, sea-run bull trout, Dolly Varden, pink salmon, sockeye salmon, chum salmon, coho salmon, chinook salmon, whitefish, and Northern pike minnow.
What is your favorite two-hand rod, and what line do you most like to use with it?
I have had many two-handers and one favourite is my 12-foot Bruce & Walker grilse rod I purchased from England in the mid-1980s. I caught fish on it from many rivers, but I do love my Bob Meiser 13-foot 6-inch, 8/9-weight, four-piece rod. For both rods I use mid-Spey lines; on the Bruce & Walker a 7-weight line, and on the Meiser a 9-weight line. I don't think I have ever used a sink tip on either rod, preferring to have fish come to the surface, or just sub-surface, to take a fly.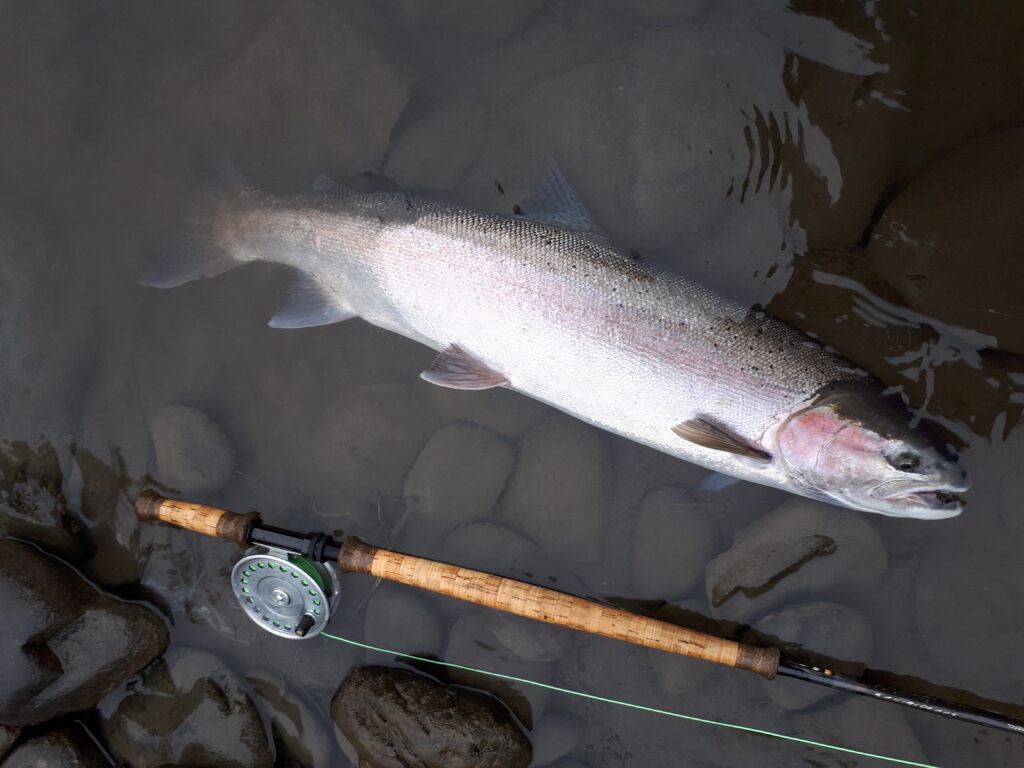 What is your favorite memory from your times on the water?
A Roderick Haig-Brown steelhead.
My wife Beverly introduced me to Haig-Brown when in 1968 she gave me Fisherman's Fall (1964). After reading his section "Steelhead and Low Water" and the essays on using the dry fly and specifically his signature fly, The Steelhead Bee, in fast water, I always wanted to catch a steelhead the way Haig-Brown did, using a bamboo rod and a Steelhead Bee. It wasn't until I retired in January 2000, and as a retirement gift the staff gave me a Peter McVey bamboo rod suitable for steelhead that I had all the things I needed to do the job. I had Steelhead Bees in my fly box that I had tied years ago, used them infrequently, but always readily available just in case the opportunity arose. On September 12, 2001, it did.
My fishing partner Michael and I had a good day on the 11th, but every day of fishing is never the same. Yesterday we had overcast skies with rain, the kind of day that the big mayflies seem to like to hatch on, usually in the afternoon. We found a lot of eager fish. This day we had clouds in the morning and a sunny afternoon. The big bugs didn't appear, however, a smaller-sized dun did. When Michael and I, after trying two other runs, tried the Hangover Hole, a couple of people were fishing the left bank. We rafted to the right. Michael caught the only fish on that side. I had no action at all, but tight to the right bank, way down on the run just above the rapids, I saw a steelhead rising, taking the smaller duns. After lunch in the camper, I strung up the McVey rod and tied on a Steelhead Bee. I wanted to try to get that fish. It was impossible to present the Bee with an upstream cast from below the fish. I decided to try a slack line presentation from above and pulled a bunch of line from the reel and cast the fly making sure there was slack in the line. I kept flipping more line out to allow the fly to drift without drag down to where the steelhead lay. On the first drift the steelhead swirled at the fly but didn't take. I repeated the tactic a few more times and eventually the fish rose and took the Bee. Fortunately, the fish didn't head out of the run but went up into the pool, and I did land a 33-inch female summer-run steelhead. A classic Haig-Brown steelhead on bamboo and a Steelhead Bee. The day before I landed a steelhead of 20 pounds on a size 12 Skeena Steelhead Bee, but that was using my two-hander. That fish was memorable as well.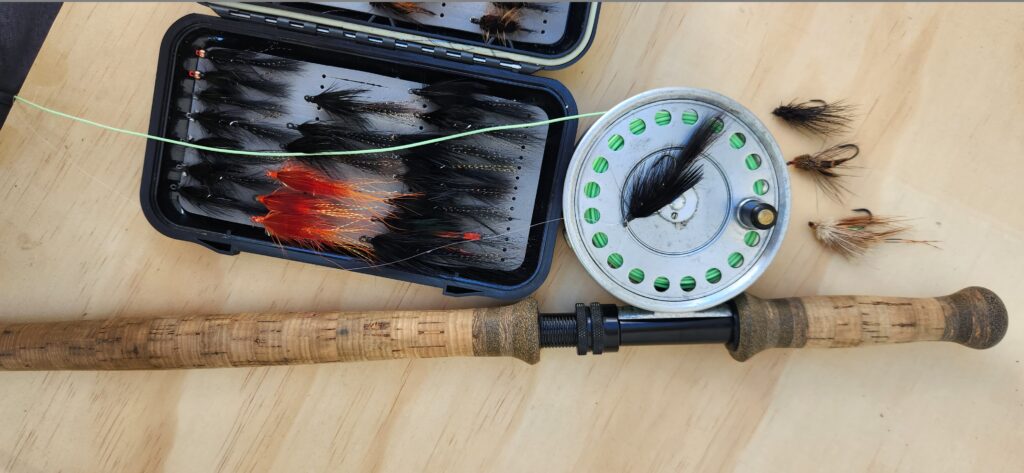 You've had a long list of contributions to steelheading and two-hand casting. Is there one you're particularly proud of?
I am a fly-fishing history buff and recording much of British Columbia's fly-fishing history in my 25 books is an accomplishment. One paper that is published on the British Columbia Federation of Fly Fishers website titled The Spey Cast or Welsh Throw: History in Great Britain, Roots in British Columbia, and Popularity in North America (2005) is a testament to the use of two-handed rods and Spey casting. Researching and documenting that history is an accomplishment I am proud of. In addition to that, Frank Amato a few months back called me "the Leonardo da Vinci of the steelhead world". The ultimate compliment. I did a number of books with Frank and fished with him on a few rivers over the years. He gave me that moniker because of a number of things — accomplished steelheader with steelhead from over 55 rivers, an accomplished fly tier, fly designer, Spey caster, writer, fly fishing book designer, graphic artist, photographer of flies, fish and fly-fishing scenery, conservationist, and fly-fishing historian.
What are your plans for the next five years?
I am 80 years old so each year from now on will see me slow down a little more. Currently over the next few months I will be helping with the publication of the University of British Columbia's new fishing book bibliography. I just completed my draft introduction where I review 500 years of written fish books with an emphasis on Pacific Northwest ones and those related to British Columbia sport fishing. I do want to spend as much time as I can with my son and just enjoy what years I have left with my wife Beverly — 57 years we have been married.