Right before Christmas the postman delivered my first bamboo spey — a Custom Cane by David L. Reid.
You can go on David's website to get a feel for the beautiful craftsmanship that goes into these — and mine didn't disappoint in person. But I was most excited to get it on the water and cast it. The delivery happened to be perfect timing, too, because I was on my way for a little family time on the Pacific coast and would be able to sneak away a bit for winter steelhead.
As luck would have it, the weather didn't cooperate and the "atmospheric river" had the coastal rivers in spate. I managed four hours of back in the bushes casting with my new rod, anxiously plodding along, hoping mainly to avoid breaking it in an overhead limb.
I assumed casting my new boo would feel quite different from the powerful graphite Bruce and Walkers and Meisers I typically use. And boy did it; you can feel the rod loading and unloading with each step you take down the trail.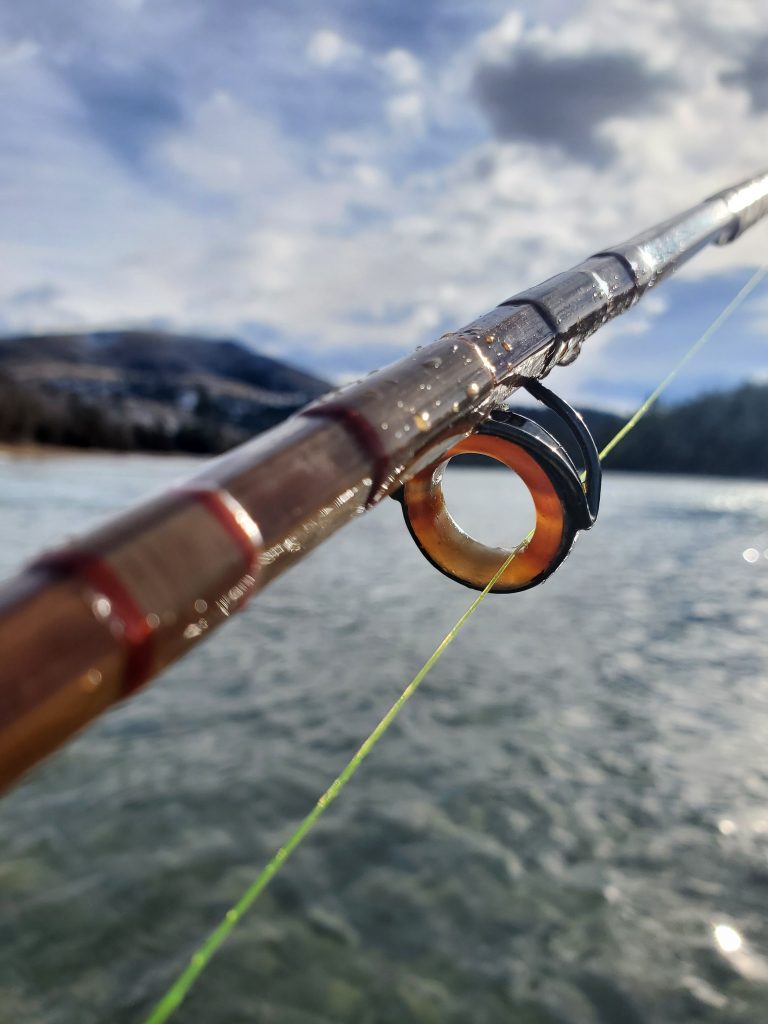 Initially I lined the 11′ 9″ 7/8-wt "Winter Run" with a 480 skagit and worried the line would be too light. (I forgot the intended 510 at home 1,000 miles away.) After struggling a tad (read: a lot), I figured I'd try a 450. That worked much better. The setup casted my normal type 6 120 grain tip and large winter fly without issue. But I ran out of water to fish before truly getting comfortable with the setup. And then the rain never gave me another shot until returning to Montana three weeks later. I couldn't shake the feeling that both the rod and I were capable of more, so it was a long wait, anxious to give it another go.
Time did give me a chance to mull things over. Even though it sounded light for a 7/8, I decided to try a 420 grain SA Spey Lite Skagit for round two. My initial impression from round one had been that the rod didn't even need a line to load it, so why slow it down with more line weight if the wood can do all the work on its own? I was pleasantly surprised — thrilled — with the light line results. Rod recovery was sharp, my loops tightened and line speed increased. The Farlex reel barked in agreement.
After that session, I ordered a matching 420 grain SA Spey Lite Scandi, which really sings and will be the line most often used on this rod for primarily surface steelhead on the Snake River system.
Beyond finding a line I liked, I started to narrow down some casting thoughts for adjusting to the wood rod.
At first, I'd tried to slow down — way down. Which is something you hear a lot when casting a boo rod. But that didn't feel quite right. It'd be fine if you wanted to stick to casting 60 feet, but I knew the rod was still capable of more.
Ultimately, I've decided that bamboo doesn't mean slow down, it just means do better. Just like a longer line, bamboo amplifies any errors you make. Hit it too early and hard, or jerky, and you're screwed.
Smooth wins out every time — something that goes a long way with a graphite rod as well. In this manner, bamboo will absolutely make you a better spey caster.
Beyond that, there is a lot of room for experimentation: short stroke, long stroke. I typically prefer a very long casting stroke, regardless of line or rod length. It's my style. The longer stroke helps in being smooth but opens the door to technical issues like the rod tip not travelling straight down the target line. In this way, every cast with the bamboo makes me focus and strive to do better, rather than finding an autopilot mode. And I love the challenge.
Lastly, I heard bamboo called a superior fish fighting tool and I'd have to agree. A 7/8 steelhead rod bends plenty to make a 16″ trout fun, but also clearly has the power required for anadromous fish. I'll enjoy fishing it for both.